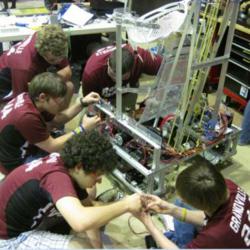 Grandville, MI (PRWEB) August 22, 2012
The RoboDawgs have chosen Crowdrise.com – a unique blend of online fundraising, crowdsourcing, and social networking as the site for their first attempt at online fundraising. While the RoboDawgs are known for experimenting with advanced technology on their robots, now theyre attempting to use the expanding reach of crowdfunding to help them extend the capabilities of their high school team.
The RoboDawgs will soon move into a new Robotics & Engineering Center on the south campus of Grandville High School, in Grandville Michigan. Grandvilles Orion school building, which had previously housed an alternative high school, is being refitted by the school district and the Grandville Academic Team Boosters to include a state-of-the-art CNC machine shop. It will also house a controls lab, where students will learn to program various controllers to operate autonomous robots utilizing a wide range of sensors and vision systems. The buildings 10 classrooms and competition areas will also provide dedicated space for designing, building, programming, and testing robots of all sizes. There will also be dedicated study hall and group project space.
The Grandville Academic Team Boosters are working with the team to raise money to acquire equipment for the new robotics center. After looking at a variety of avenues, the team decided to use an online fundraising site to raise the money for one of the largest pieces of equipment.
Full details of the teams fundraising appeal can be found at http://www.crowdrise.com/robodawgcnc/fundraiser/grandvilleboosters
Grandville Public Schools has been a leader in educational robotics for more than 10 years. Beginning with one high school robotics team in 1998, the districts program has now grown to include more than 30 teams. More than 500 students, from fourth through twelfth grades, participate on Grandville robotics teams, designing, building, and programming robotics for competitions around the world. Grandville has one of largest Lego League programs in the country, with the District fielding 18 teams this year. These students go on to compete in the Districts VEX Robotics program at the middle school level, as well as the FIRST Robotics competition and the Great American River Race at the high school level. The Grandville Academic Team Boosters provide financial, technical, and coaching support for the Grandville robotics teams and other academic teams in West Michigan.