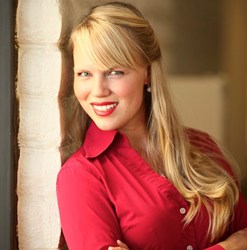 Paso Robles, California (PRWEB) May 08, 2013
In response to rapidly increasing demand for wine tours in Californias Central Coast, Grapeline Wine Tours recently created a new management position focusing on marketing and public relations. Grapeline selected Roxan Kragten, a seasoned Paso Robles entrepreneur, to fill the key position. According to the company, the new position reaffirms Grapeline Wine Tours' commitment to maintaining its leadership in wine tourism in the California Central Coast wine regions, and particularly in Paso Robles.
Prior to signing with Grapeline, Mrs. Kragten ran and owned Paso Weddings, a wedding coordination business that worked closely with select Paso Robles wineries. She graduated from Northern Arizona University with a major in Public Relations and a minor in Advertising and Sociology. As a six-year resident of San Luis Obispo County and a former Paso Robles business owner, Mrs. Kragten brings a record of achievement, relevant experience, and important wine country connections to Grapeline Wine Tours, Paso Robles.
Grapeline owner John Kelliher explained, "The decision to create a marketing management position stemmed from a consistent demand increase." According to the Wine Institute, California wineries are growing in interest with more than 20 million visitors each year. As Jon Fredrikson of Gomberg, Fredrikson & Associate states, The phenomenal growth of the industry in California – Americas wine heartland – has been fueled by steadily-increasing consumer interest and adoption of wine as part of an everyday lifestyle. The Paso Robles Wine Country Alliance reports that Paso Robles has seen a more than five-fold increase from 35 to over 180 bonded wineries in the last decade. These factors have spurred an increase in demand for wine tours in the Paso Robles area.
Grapeline Wine Tours is the top guest-rated wine tour company in Southern and Central California, with over 350 5-star reviews on review sites like Yelp and TripAdvisor. Founded in Temecula wine country in 2002 by John and Kim Kelliher, Grapeline has grown rapidly and is now the largest wine tour company in the region, offering services in the Temecula, Paso Robles, and Santa Barbara wine countries.
Reservations are available online at http://www.gogrape.com or by calling Grapeline at 1 888 8-WINERY.