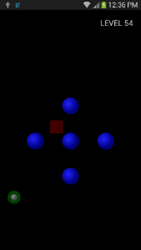 Albuquerque, New Mexico (PRWEB) October 04, 2013
Phantom Data Services, LLC is pleased to announce the release of Gravitate, a fun and challenging gravity puzzle game designed for Android platforms.
The goal of the game is to launch a satellite at a target while dodging planets that are in the way. The planets' gravity will pull the satellite off course, but these forces can be used to the player's advantage. By adjusting the launch speed and direction, the satellite will slingshot around the planets to hit the target. A custom-developed physics engine delivers realistic gravitational effects.
Gravitate has a simple user interface, and is easy to learn and play, but it is very challenging to master. The game's levels are designed to help players learn the game as they are playing. As players advance through the various game levels, more planets are added to the game. The position of the planets change as well, making their gravitational forces more complex and the solutions more difficult.
Gravitate is designed to be a casual experience. There is no time limit, no score, and no limit on attempts. Players are encouraged to learn the game through trial-and-error. They can launch a satellite, watch how it interacts with the planets, and immediately try again if their attempt goes off course. This level of interactivity, combined with the challenging levels, makes Gravitate an extraordinarily compelling game.
The introductory version of Gravitate includes 100 levels. More levels, features, and game options are currently in development by Phantom Data Services and will be available in future versions.
Gravitate is priced at 99 cents, and is available for download from the Google Play Store.
Based in Albuquerque, New Mexico, Phantom Data Services, LLC provides advanced website and Android app development services. Phantom Data Services is also an innovator in the field of DIY alarm monitoring solutions.