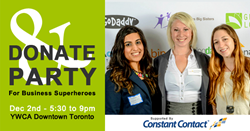 Toronto, Ontario (PRWEB) November 25, 2014
The Green Lotus Donate & Learn Initiative is back for the holiday season with Donate & Party for Small Business Owners and Entrepreneurs a special event in support of the YWCA Toronto, December 2nd at 5:30pm.
Learn how to increase business sales & leads from keynotes speakers and marketing experts at Constant Contact & Green Lotus, while supporting mothers and women-led families of the YWCA Toronto this holiday season!
Join hundreds of Torontos top entrepreneurs and small business owners to enjoy an amazing night with complimentary drinks and snacks to get in the holiday spirit. Network with Torontos top entrepreneurs and marketing experts, and meet the event sponsors Constant Contact, the Canadian Association of Marketing Professionals and Kick Ass Media.
Green Lotus Donate & Learn Events have raised over $ 18,000 for local Toronto charities including YWCA, Big Brothers and Big Sisters of Toronto and other local Toronto charities.
Donate & Party Registration is now open, reserve your seat for the Tuesday, December 2, 5:30pm event at the YWCA Headquarters (downtown Toronto). Event details: http://greenlotus.ca/workshop
Who Should Attend the Donate & Party?

Whether just getting started with social media, planning an online marketing strategy, or deep into implementation; Donate & Learn Events provide the knowledge, strategies and networking opportunities needed to improve social media, and online marketing results!