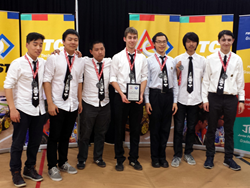 Chestnut Ridge, NY (PRWEB) March 24, 2015
Green Meadow Waldorf Schools robotics team, The PolyGnomes, are still powering foward! They won all three of their qualifying tournament championships and were finalists in both the NY Empire and New York City regional championships. They also received two prestigious judged prizes, the PTC Robot Design Award and the Rockwell Collins Innovate Award.
Their journey recently continued to the Eastern Super Regional in Scranton, PA with the 72 best teams on the east coast, from Virginia to Maine. There they were ranked #2 in their division and were captains of the finalist alliance, which qualified them to go to the World Championship in Saint Louis from April 22-25. There they will play the top 2% of teams in the country, plus 30 international teams. These events are all part of FIRST Tech Challenge.
The PolyGnomes have won 50 of 58 matches and holds several tournament scoring records. The plucky Gnomes from a small liberal arts school in Rockland County, NY, continue to win against teams from large schools, elite schools specializing in STEM, and teams heavily supported by technology companies.
The PolyGnomes are coached by GMWS physics teacher James Madsen and assisted by math teacher Lisa Krogh. The team of seven students has worked together since September, when the 2014-15 FTC game, Cascade Effect, was revealed. They wove together a strategic vision of how to achieve high game scores within their engineering capacity and budget. The result is a swift, powerful, and versatile machine that easily navigates the playing field, shoots up and down ramps, wrangles goals, rapidly sweeps up game elements (whiffle balls) and drops them in increasingly taller scoring tubes, all while avoiding steep penalties for infractions and defensive actions by opponents. The PolyGnome robot is widely admired by other teams and coaches for its unique design and consistent high scoring, as well as the outstanding performance of the drive team in match after match. A video clip of one of PolyGnomes most recent matches in NYC can be viewed at https://www.youtube.com/watch?v=2rPTb2pJQac .
Each match lasts for 150 seconds. During the first 30 seconds, the robot operates autonomously, using only its onboard computer program and sensors to guide and score. A 90-second tele-op period follows, with the robot controlled remotely with joysticks in the hands of the drive team. The match concludes with a 30-second end game with new rules requiring feverish action, absolutely precise driving, and rapid strategy shifts. Matches are played in two-on-two alliances. During qualifying matches, 24 teams are paired randomly by computer, and rankings are obtained based on a teams five-match scores. An alliance partner in one match may be an opponent in a later match. Later in the tournament, the top-ranked teams choose alliance partners to compete in elimination brackets leading to the championship.
One of the keystones of FIRST Robotics is the concept of Gracious Professionalism, a term coined by MIT professor and FIRST mentor Woodie Flowers, and part of the ethos of FIRST. It's a way of doing things that encourages high-quality work, emphasizes the value of others, and respects individuals and the community. Fierce competition and mutual gain are not separate notions. Teams help each other throughout the season and even during tournaments. They lend each other advice, spare parts, coding hints, and will even use their robot to right an opponents tipped robot during a match. Winning a match has little value if ones opponents are not at their peak.
The senior leaders of the PolyGnomes team are Danny Chang (captain, lead project engineer, and CEO), Chester Lee (engineer, strategist, and opposition scout), Brian Frei (one of the best robot drivers in the state), Takama Saeki (student match coach and pit chief), and James Yang (engineering notebook scribe.) While all teams boast top science and math students, the PolyGnomes are quite unique in that they are also varsity athletes, outstanding musicians, and skilled writers. And, while there are machines technically superior to theirs, in the end it is the proficiency, focus, and flexible thinking of the Green Meadow Waldorf students that has won so many matches and tournaments this season.