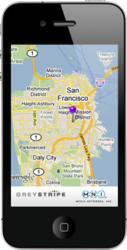 San Francisco, CA (Vocus/PRWEB) January 26, 2011
Today leading independent mobile advertising network, Greystripe, announced a strategic partnership with Media Networks, Inc. (a Time Inc. Company), the leader in geo- and demo-targeted marketing, to attack the burgeoning mobile local ad market.
Through this strategic partnership, MNI clients in prominent advertising categories like automotive, education, insurance, and finance, will have access to Greystripes renowned mobile content and mobile ad formats, which include its full-screen Flash ads, delivered to iPhone and Android using Greystripes proprietary Lightning Technology.
MNI will expand the reach of its local and regional advertisers online campaigns to mobile, leveraging Greystripes network of thousands of mobile applications and websites, which have more than 30 million monthly unique visitors.
"Location is the 'killer app' for mobile advertising," said Greg Sterling, senior analyst with Opus Research. "Being able to deliver visually rich, engaging ads to mobile consumers creates a great opportunity to influence both their immediate and longer-term purchase decisions.
This partnership will allow Greystripe and MNI to focus on this location-based sector of the growing mobile advertising sphere.
Greystripe is proud to partner with MNI. Together we will enable advertisers to reach local audiences on our broad network across mobile platforms, said Michael Chang, CEO of Greystripe. When we looked for a partner to attract the large, regional brand advertisers, MNI was a natural fit.
The local mobile ad sector in the U.S. is currently estimated to be worth $ 404 million, and its expected to grow 57% annually — to over $ 2 billion by 2014, according to a recent forecast by BIA/Kelsey.
We project mobile advertising to be a $ 1 billion market in 2011, and locally targeted ads will be the fastest growing segment of that pie, says Mike Boland, analyst and program director for BIA/Kelsey. Greystripes mobile ad platform will mobilize MNIs client campaigns, and let them reach target audiences where they are.
Our partnership with Greystripe will enable our clients to easily reach consumers on the one indispensable tool that goes wherever they go, said Rob Reif, President of MNI. Greystripes wide cross-platform reach and engaging ad formats make them a great partner to help marketers stand out and get noticed with local messaging.
About Greystripe

Greystripe is the world's leading independent mobile advertising network. Greystripe delivers the highest engagement for advertisers, the maximum revenue for publishers and app developers, and the best ad experience for users across all major mobile platforms, reaching tens of millions of mobile users. Greystripe's proprietary advertising platform currently serves ads into more than 2,500 application titles and mobile websites, supporting over 1,400 handset models globally.
Greystripe was named the MOBI Awards Best Mobile Rich Media Network in 2010, E-Tech CTIA award winner for the Mobile Marketing/Mobile Advertising category in 2009, AlwaysOn OnMedia 100 winner in 2009, AlwaysOn Global 100 winner in 2008, Red Herring Global 100 winner in 2007 and the Under the Radar Best in Show: Mobility winner in 2006.
For more information, please visit: http://www.greystripe.com.
About MNI

The leader in target market advertising for more than 40 years, MNI (http://www.mni.com) has relationships with premier print, online, and mobile publishers. These relationships give marketers the ability to advertise in acclaimed national magazines, leading websites, and on top-ranked mobile sites on a ZIP code-specific basis. By partnering with celebrated publishers like Hearst, Hachette Filipacchi, and Meredith Publishing Group, as well as trusted digital content providers like iVillage, About.com, and MapQuest, MNI connects with consumers both demographically and geographically, providing maximum reach without waste. MNI is a division of Time Inc., a wholly owned subsidiary of Time Warner, Inc., the worlds leading media and entertainment company.
# # #