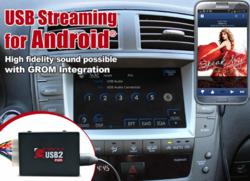 Belmont, CA (PRWEB) April 02, 2013
GROM is the first and only car audio company to deliver fully digital audio connection from any Android Jelly Bean devices (via USB2P or MST3P interfaces) to many factory car stereos. The direct USB Digital Audio connection provides high-quality sound, making a huge impact on Android users in-car media experience.
The majority of car audio sound systems and radios will not allow high fidelity sound through wireless Bluetooth or aux-in, which was the main reason for developing direct Android USB Audio connection. Connecting audio digitally allows the music signal to remain in a digital form until it gets converted into an analog signal at amplifier or DAC; meaning no unnecessary manipulations are made to the signal on the way to your ears. GROM Audio
GROMs direct USB Digital Audio connection via the GROM-USB2P adapter is the best way to get high quality sound in the car. Android users (Jelly Bean onwards) can play any music app including Pandora, SoundCloud and others to listen to their music library via the USB Digital Audio connection.
To see a video of Direct USB Audio from Android phones visit GROM Audios YouTube Channel.
GROM Audio also announced its partnership with the Golden Gate chapter of the Volvo Club of America. This partnership will benefit Volvo drivers who are looking for an aftermarket solution for Volvo factory stereos. GROM adapter kits for Volvo allow seamless integration of Android smartphones, Bluetooth, iPod/iPhone, AUX-IN and USB to Volvo factory stereos. The car show will represent 60 years of Volvo heritage and will feature GROM Audio's product line since GROM was announced as this year's premier audio company for Volvo cars.
The company will be hosting a booth at the 15th Annual Davis Car Show, Swap Meet and Auto X hosted by the Golden Gate chapter of the Volvo Club of America on April 28, 2013. The show/swap meet will take place at Central Park in Davis, California. GROM Audio will be sponsoring this years 1st place award trophy Best sound and Interior of 2013.
GROMs products will be showcased in the two cars that attend every Volvo event in Northern California. The show attendees will be invited to experience interactive demo of GROMs car kit Justin Lee, Golden Gate Chapter of Volvo Club of America President.
GROM's product line consists of high quality car stereo adapters for connecting Android