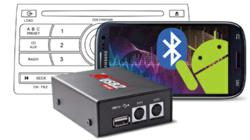 Belmont, CA (PRWEB) February 28, 2013
With the newly released GROM-USB2P Android integration kit for some Chrysler, Dodge and Jeep, GROM Audio brings Android integration to these vehicles. The Android devices such as Smartphones and Tablets, including the latest Samsung Galaxy S3 and Google Nexus, connect directly to the car audio systems for music, Net.Radio and Bluetooth.
As a result, drivers can benefit from the GROM-USB2P Car Kit which will deliver full control over media files from car stereo or steering wheel buttons, higher sound quality, and Bluetooth technology for in-car hands-free calling and wireless audio for factory stereos in 2002-2005 models.
As one of the leading manufacturers of high-quality in-car multimedia integration systems GROM supports more than 30 vehicles and continually works to add more cars to its list of compatible models.
Now, Chrysler, Dodge and Jeep owners can enjoy in-car music with direct Android media integration. Additionally, the GROM-USB2P Car Kits are the ultimate solution for factory car stereo systems without Bluetooth, allowing for music streaming and hands-free calling. GROM Audio.
The GROM-USB2P makes the entire in-car music-listening experience much more enjoyable; with better sound as a result of direct audio connection, convenience of in-car Bluetooth, and Android battery charging. Most importantly, users can keep eyes on the road and hands on the wheel while talking on the phone or changing the music.
Additionally, GROM Audio announced their Product User Experience Video Contest to engage and learn about their customers experience with the company's product line. The winner will receive 16GB Nexus 7 tablet. The contest started on February 27th and will run for three weeks, until March 21st. More information regarding to the contest is available at the company website.
Since the Android Direct In-Car Integration launch in early 2012, GROMs product development on Google Android connection to in-car Stereo has made a huge impact on Android user experience. GROM Audios success has been due to their superior service and commitment to their customers. The companys main goal remains as delivering products that make sense to the market users.
The GROM product line consists of high-quality car stereo adapters for connecting Android