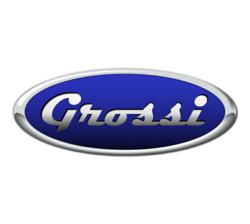 Atlanta, GA (PRWEB) May 31, 2013
GrossiWeb, a strategic interactive marketing agency specializing in customized strategic marketing programs, recently celebrated its seven year anniversary.
"Since 2006, our company has grown from a one person marketing consulting firm to a full service agency," said Stefano Grossi, President of GrossiWeb. "We have grown in many ways since our start, and I feel privileged to have served our clients throughout such a transformation. I am truly grateful to my amazing team members who have worked diligently and enthusiastically. This company would not be where it is if it was not for them."
Well thought out design with proper information architecture and relentless promotion are essential to online success for companies seeking to capture more of the market. I especially enjoy cracking the code on how to best leverage the client's budget to maximize return. says Grossi.
GrossiWeb has been an acclaimed company since late 2006 when Stefano Grossi founded the company with an intent to service both local companies looking to expand their services abroad and foreign enterprises looking to increase their business in the United States. "We started with humble beginnings and now have an established history of helping all types of companies increase their visibility online. Whether a local company or a global enterprise our team can help your business expand," added Grossi. Based in Georgia, GrossiWeb has a second office to service west coast clientele based in Los Angeles.
Our clients have experienced significant increases in sales through highly targeted advertising, social media syndication, and search engine traffic. in lead generation1000% increase of incoming leads others with a increase in sales of 25%, says Grossi. This is not uncommon. The value of search engine optimization and Internet marketing is well known but becoming more necessary for new and existing businesses every day due to the rapidly evolving nature of the Internet culture.
Grossi explains, You website can attract more visitors and perform better using intuitive user-friendly, visual appeal, and providing helpful information. Our goal is always to apply our presentation and syndication skills to the knowledge and wisdom of our clients. They are the true experts here, we just try to listen and learn like children from them, take what they give us and put it on steroids. There is nothing better than helping a small company take market presence away from a commercial goliath! Well…making our clients obscenely successful is nice too"
About GrossiWeb
During its seven years of service, GrossiWeb has helped companies profitably launch new products, market their business and build brand names. GrossiWeb is a full service Interactive Marketing agency with offices in Atlanta, GA and Los Angeles, CA that offers a broad range of Web presence solutions for small to medium level organizations.
By delivering brilliant strategy through a dedicated and experienced team of interactive experts, GrossiWeb helps clients develop and implement successful online strategies. GrossiWebs interactive marketing services range from complete interactive marketing engagements to standalone projects such as Web Design, Custom Web Development, Mobile App Development, Search Engine Optimization (SEO), Pay Per Click Management (PPC), Interactive Ad Creation, eCommerce Development, Online Public Relations and more.
For more information about Grossi Web and how it can help you establish your brand online, please visit http://www.GrossiWeb.com or call 1.888.Grossi1.