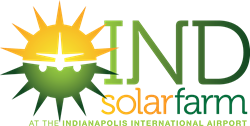 Indianapolis, Indiana (PRWEB) March 15, 2013
Today representatives from business, government and renewable energy gather at Indianapolis International Airport (IND) for the official groundbreaking of the largest airport solar farm in North America. Partners in this 75-acre, $ 35 – $ 40 million alternative energy project include IND, the City of Indianapolis, General Energy Solutions Inc., Telamon Corporation, Johnson Melloh Solutions, Indianapolis Power & Light Company and Cenergy Power.
Todays groundbreaking marks the latest step by the City of Indianapolis to encourage the development and use of renewable energy sources, said Mayor Greg Ballard. Through our Office of Sustainability and my initiative to transition the citys entire vehicle fleet to post-oil fuel by 2025, Indianapolis is quickly becoming a leader in the Midwest in embracing new energy technologies.
As the economy of Indiana is continuing to expand and make a solid effort toward strong solar policy, we are pleased to be able to play a role in expanding the growth of the solar industry in the state of Indiana, said David Su, CEO of General Energy Solutions Inc., owner of this airport solar project.
Johnson Melloh Solutions is excited by todays official groundbreaking as it is the capstone to two years of hard work and perseverance developing the project, said Nick Melloh, company president and co-founder. It is our hope that this project will set the stage for future solar development in the city and around central Indiana.
Telamon is proud to play a pivotal role in the largest planned airport-based solar farm in North America, said Albert Chen, CEO of Telamon Corporation. With todays groundbreaking, the IND solar farm showcases Indianapolis as both a cutting-edge leader in the energy space and a new engine for job creation and economic growth.
Hosting the largest airport-based solar farm in the country supports both environmental and economic sustainability at the Indianapolis International Airport, said Robert Duncan, executive director of the Indianapolis Airport Authority. Through this public-private partnership, we are able to create a use for otherwise undevelopable land, benefit from a new source of non-airline revenue, increase the tax revenues we generates for local municipalities, and add to the many ways we incorporate sustainability into airport operations.
Solar generation is an important part of IPLs commitment to developing alternative resources, said Ken Zagzebski IPLs President and CEO. We have increased our diverse resources portfolio ranking 8th in the U.S. in available wind-capacity on a per customer basis, and we look forward to this possible significant increase in solar generation.
The general contractor and construction management company selected for the IND Solar Farm installation will be Cenergy Power. Cenergy Power is a value-added solar EPC company comprised of seasoned power system professionals and financial experts focused on delivering unmatched value to utility, commercial, and agricultural end-users interested in solar photovoltaic solutions.
Sponsors of the groundbreaking event are Cenergy Power and Barnes & Thornburg, LLC.
When the IND Solar Farm is completed real-time web-based software will be available on their Website so school children, academics and the general public can learn more about renewable energy.
As travelers arrive and depart the LEED