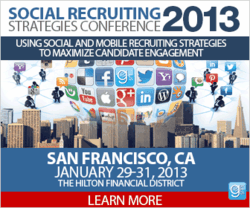 San Francisco, CA (PRWEB) December 12, 2012
Dustin Carper, Groupon's Employment Brand Strategist will be speaking at SRSC San Francisco on January 30, 2013. Dustin will share lessons that the daily deal company learned from his implementation of their social recruiting strategy.
First, beginning with no budget at all, utilizing Twitter, Facebook pages and LinkedIn, as well as how Groupon has had success with PPC ad campaigns. Also featured will be insights Dustin and the company gained from their people blog, a blog created to reach out and to show candidates what it's really like to work at Groupon.
Dustin will also be discussing analytics and lessons learned in employment branding strategies, the role of talent communities, and review analytics of those efforts utilized in his presentation. Geared at helping attendees, his case study will present the kind of relevant information that will allow SRSC attendees to maximize recruiting efforts in their own companies and learn from Dustins lessons at Groupon.
Groupon provides daily deals on the stuff to do, eat, see and buy in more than 500 markets in 44 countries. It has offices across North America, Europe, Latin America, Asia and other parts of the world. After its founding in 2008 by Andrew Mason, the company experienced astonishing growth, as it came to dominate the world of daily deals. In 2011, investors clamored for shares of the newly public company, which was valued as high as $ 20 billion.
SRSC San Francisco gathers the best and brightest speakers in the recruiting industry to present best practices and featured corporate case studies including Fidelity Investments, UPS, Marriott Hotels, Sodexo, NPR and is pleased to add Groupon to the lineup.
The conference will offer one full day of workshops and two conference days with multiple case studies and interactive learning sessions, plus ample networking opportunities. To view the full agenda, visit: http://socialrecruitingstrategies.com/san-francisco-2013/agenda.html To register, please visit http://www.socialrecruitingstrategies.com/ or call at 888.409.4418.
About Global Strategic Management Institute:

GSMI is a leader in the industry of executive education, creating conferences, summits, workshops and training sessions that combine rich learning environments with the opportunity to network with todays most relevant thought leaders, speakers and practitioners. GSMIs annual events have reached 70% of the Fortune 500 companies, in over 30 countries, covering topics that todays leaders find most challenging and inspiring. More information about Global Strategic Management Institutes upcoming educational events for professionals, visit: http://www.gsmiweb.com.
Twitter Follow us: @GSMIonline

1-888-409-4418