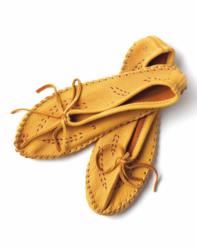 Winnipeg, MB (PRWEB) September 07, 2012
Ottawas fastest growing company, Shopify has added another Canadian client to their growing list of fans. Winnipeg-based traditional Aboriginal footwear company, Canadian Made Mukluks, owned and operated by mother and daughter business team Heather McCormick and Marileen Bartlett, has launched their new website on growing e-commerce platform Shopify this week. The relationship just made sense for the two companies. Canadian Made Mukluks, one of the largest producers of traditional, authentic fur boots and moccasins, has always had success with their e-commerce store, but decided it was time for a change. As an Aboriginal-owned company, we are proud of the history connected to our product said a rep from Canadian Made Mukluks, but it doesnt mean the company cant bring their business to the forefront of e-commerce technology. Tradition, meet trailblazing.
Shopify, founded in 2005 currently hosts over 30,000 stores online with nearly 20 million products sold. Their secure shopping cart feature uses 128 bit SSL certificates and over 50 integrated gateways allow users to pay with PayPal, credit cards and more. Perhaps the biggest draw for Canadian Made Mukluks, aside from the user-friendly aspect, are the built in Search Engine Optimization (SEO) features that ensure Canadian Made Mukluks can compete effectively in the online space. The company says that its important for them to provide their clients with the best possible online shopping experience.
Canadian Made Mukluks prides itself on the highest standards of culture and tradition in every aspect of the creation of moccasins and mukluks. Made from high quality suedes, leathers and furs, Canadian Made Mukluks mukluks and moccasins are arguably more than just footwear, theyre traditional works of art. Contemporary beadwork combined with authentic designs have made Canadian Made Mukluks highly coveted by people around the world. There are literally hundreds of years of history in each of the products we sell. The company also offers for sale the popular brand Manitobah Mukluks. To learn more about traditional mukluks and moccasins, visit http://www.canadianmademukluks.com