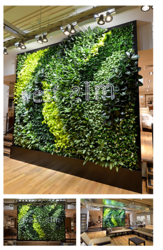 Vancouver, BC (PRWEB) December 18, 2012
GSky Plant Systems, Inc., a leading provider of vertical green walls has taken off abroad to complete West Elms vertical green wall in The Avenues Mall, Kuwait marking the brand's first store opening outside of North America. West Elm, known for its diverse mix of modern home designs and decors features artistic and inspirational home furnishings occupying 16,000 square feet of retail space in The Avenues Mall.
West Elm has incorporated vertical green walls in numerous locations, adopting Versa Wall as part of their new store design concept. Since the introduction of the first green wall in West Elm Seattle, it has become a prominent feature and a branded element for the stores. With the size of the retail space in The Avenues Mall, the Versa Wall is a major artistic focal point situated in the center of the store that coordinates well with the merchandise.
Part of the new store design concept is rooted in the brands commitment to green initiatives. The plants used to paint the canvas of the green wall provide oxygen and add an organic element to the store environment. Joshua Geurtsen, Senior Design Manager, Williams-Sonoma, Inc.
It is in West Elms philosophy to strive to be a little greener everyday by making small changes that will lead to a greater good in the future. They believe in making a positive impact on people and the environment. This is implemented by West Elms line of green products that are responsibly produced, certified organic, recycled, rapidly renewable or non-toxic. By bringing living elements such as greenery into an unfamiliar space outside of peoples home, the green wall contextualizes a home environment, softens the space and brings life to the interior where shoppers can find comfort.
Versa Wall is user-friendly, easy to install and maintain due to the flexibility of 4 industry standard pots that can be placed directly into the Versa Wall tray without any replanting, allowing the wall to remain in season year-round. In addition, Versa Wall is completely self-contained and 100% water efficient, erasing any fear of spills assuring a beautiful green wall that is neat and spotless.
The positive feedback that we have received from everybody with the green wall is an important factor of why it is part of our new store design concept for West Elm. It is attention grabbing and a major centerpiece for the store where people can stop to interact and admire the living artwork. Patti Kashima, Director Store Design, Williams-Sonoma, Inc.
GSky brings life indoors resembling nature, a compliment to West Elms cozy home setting. The green wall is a fantastic display of living artwork designed to make shopping an enjoyable experience.
About GSky Plant Systems, Inc.:
Founded in 2004, GSky Plant Systems, Inc. is a leading provider of vertical green walls in North America. The business was founded based on the explosive growth of green technology, including green wall and roof systems in Asia. GSky currently offers three green wall systems, the Pro Wall, Versa Wall and the Basic Wall. Each system is unique in terms of design flexibility, installation location versatility, plant selection variety, desired size, cost, coverage time-line, and system components. GSky also offers a suite of services including maintenance, remote monitoring, and consulting as full-service contracts or