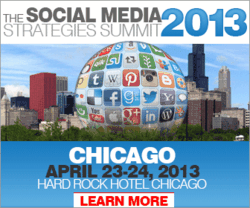 San Diego, CA (PRWEB) February 20, 2013
The Global Strategic Management Institute (GSMI) is excited to announce that Facebook will be joining the speaker line-up at the Social Media Strategies Summit, Chicago this April 23 and 24th at the Hard Rock Hotel.
Now in its fourth year with successful events throughout the US and in the UK, SMSS aims to educate social media professionals on emerging strategies, the latest social tools, and insights from successful social media marketing campaigns.
Jonathan Stringfield, Manager, Measurement Solutions at Facebook will be speaking on Measurement in the Connected World: A Case Study of Facebook. Based out of Chicago, Jonathans work at Facebook includes constructing empirically rigorous solutions for tying online interactions with real-world outcomes. At SMSS Chicago this April, he will discuss how to effectively measure critical business impacts on Facebook.
Tickets are now on sale! Delegates may register before March 15, 2013 to receive $ 200 early bird discount. Group discounts are available.
About Global Strategic Management Institute:
GSMI is a leader in the industry of executive education, creating conferences, summits, workshops and training sessions that combine rich learning environments with the opportunity to network with todays most relevant thought leaders, speakers and practitioners. GSMIs annual events have reached 70% of the Fortune 500 companies, in over 30 countries, covering topics that todays leaders find most challenging and inspiring. More information about Global Strategic Management Institutes upcoming educational events for professionals, visit: http://www.gsmiweb.com.