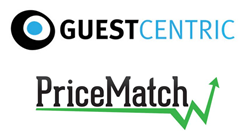 PARIS, France (PRWEB) March 24, 2015
PriceMatch, recently reported by Tnooz as a hotel yield manager with a hip vibe, today announced a partnership with GuestCentric on an integrated hotel digital marketing and revenue management cloud platform. GuestCentric is a recognised and award-winning leader in both design and innovation categories with over 1,500 independent hotel clients in the United States, United Kingdom, Spain, Portugal and Latin America. Through this partnership, these clients will have access to a PriceMatch-powered Revenue Management tool directly on the GuestCentric platform.
The combination of GuestCentrics all-in-one digital marketing platform with PriceMatchs Revenue Management solution will allow hotels around the world to run their operations in a more efficient way. Hotels will now be able to respond to market demand changes based on revenue management data, not hunches, said Pedro Colaco, CEO of GuestCentric. With this new partnership between PriceMatch and GuestCentric, hotels will be able to update their own website and all distribution channels with one click. It feels like magic, but actually, its great cloud technology.
GuestCentric is a proven and high-caliber solution who I have been following closely for a few years now. The team at GuestCentric combines great digital design with practical solutions to help hotels convert more direct website traffic and increase their share of direct bookings. PriceMatch is proud to partner with the team at GuestCentric to bring the best of both worlds together in a single hotel cloud platform for Digital Marketing, Distribution and Revenue Management, added Erik Munoz, Chief Marketing Officer at PriceMatch.
GuestCentric provides hotels with digital marketing software in the cloud that focuses on revenue generation with simplicity and ease-of-use. Combined with the expertise of an award-winning design team, the software provides all of the features needed for hotel digital marketing success: sales-oriented and responsive websites; a user-friendly booking engine; social marketing tools; extensive reporting and analytics; an easy-to-use content management system and seamless integration with more than 350 online channels through a hotel channel management tool.
Founded in 2012 by a young team of econometrics, mathematics, statistics and engineering graduates from the top Parisian universities, PriceMatch is a revolutionary hotel pricing solution that aims at democratizing revenue management for hotels of all shapes and sizes. Its online platform uses state-of-the-art econometrics to automate and integrate the tedious and time-consuming tasks required to forecast, set prices and distribute them online.
***
About GuestCentric:
GuestCentric is a leading provider of cloud-based digital marketing software that helps hoteliers protect their brands, drive bookings and connect to their customers on all digital platforms. GuestCentrics all-in-one platform provides hoteliers with award-winning responsive web sites for mobile, tablets and desktops; a user-friendly booking engine; a social marketing module to publish deals on Facebook, Twitter and other social networks; and a channel manager to offer rooms on Booking, Expedia, TripAdvisor and hundreds of other channels.
GuestCentric has operations in New York, San Diego, London, Barcelona and Lisbon and is a proud partner of hotels that are part of collections like Design Hotels, Small Luxury Hotels, Leading Hotels of the World and Relais & Chateaux.
For more information, please visit http://www.guestcentric.com.
About PriceMatch:
PriceMatch provides an innovative and easy-to-use revenue management solution designed for both hotel managers and experienced revenue managers. Using big data and advanced econometric tools, the PriceMatch algorithm provides pricing recommendations through an extremely user-friendly website. Our account managers and engineers guarantee every hotel a personalized assistance to optimize their RevPar.
More info at https://www.pricematch.travel/es/.