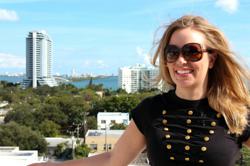 Miami, FL (PRWEB) January 17, 2013
Leslie Bradshaw, co-founder of JESS3 and recent Inc. Magazine 30 Under 30 awardee, announced her new role in a venture-backed start-up as chief operating officer in a series of interviews yesterday.
Guide, based in Miami, is a software company focused on turning online news and blogs into video for anyone wanting to curate and consume content when reading isn't an option, such as when on the treadmill, making dinner, multitasking at work or getting ready in the morning.
Founder and CEO Freddie Laker described Bradshaw as well positioned to help execute the companys vision.
Leslie has both a killer sense of the next generation of content marketing, as well as the know-how to build a team from the ground up, he said. The technology and content industries have taken notice of her dedication and passion for innovative workand so have I.
Bradshaw joins the company after six years of building JESS3, a successful data visualization company, where she was instrumental in generating $ 13 million in revenue, winning AdAge gold as a Small Agency of the Year in the southeast region and earning the company a spot on the Inc. 500 list in 2012.
As her first priority, Bradshaw will be working with publishers to transform their content into video through Guides app. This in turn will allow publishers to deliver their content across all smart devices including TVs and increase their audience exposure thanks to Guides passive, video-based consumption model. The company will be launching in private beta next month, and then opening it to a public beta in March.
Freddie has been building successful companies and teams since 1996 and Im honored and eager to be a part of this new venture, Bradshaw said. After working with some of the pioneers of television, including C-SPAN and The McLaughlin Group, as well as cutting edge technology brands like Google and Intel, I find my career at the nexus of media, content and tech with Guide offering a solution for whats next harnessing the content we love, but giving it to us in the format we want.
By 2015, DisplaySearch predicts that more than 500 million smart TVs will have shipped globally. This growing prevalence of smart televisions presents an enormous opportunity for brands, content creators, consumers and media companies alike, especially when taking into account that over 500 million people are already consuming online news daily.
Laker, serial entrepreneur and former VP of Strategy for SapientNitro, described Guide as delivering on the future weve all been promised.
Looking and listening to Guide feels a bit like youre watching a science fiction show except that, finally, its real, Laker said.