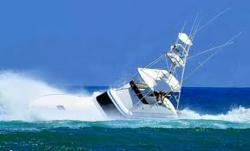 Naples, Florida (PRWEB) May 22, 2013
Gulf Coast Educators Insurance located in both Naples Florida and Port Charlotte Florida announce the 2013 National Boat Safety Week.
This year between May 18th May 24th we are contacting our insurance customers to raise awareness for boat safety. With the kickoff of the Memorial weekend, so many people will be celebrating on the water using their boat, jet ski, waverunner and cruiser that we urge people to be vigilant while enjoying the water. Nationwide roughly 500 people drown each year from recreational boating accidents. Of this 500 nearly 88% of these deaths are a result of people not wearing a personal flotation device otherwise known as a life jacket, says Ron DeFreitas owner/agent of Gulf Coast Educators Insurance.
The Florida Coast Guard recommends boaters and anyone on the water enjoying their personal watercraft wear a life jacket at all times. Gulf Coast Educators Insurance offers tips for boat owners as they kick off the start of Summer with Memorial Day weekend:
1) Never drink and drive dont drink alcohol while boating

2) Know the Florida boating laws before you head out with your personal watercraft

3) Inspect your boat have a mechanic review your boat, its engine, spark plugs, hoses, etc., to ensure you dont have a breakdown while in the water

4) Check the weather know the forecast prior to going getting caught in a thunder and lightning storm can be very dangerous if you are on the water

5) Keep in touch with somebody on-shore, make sure they know when you are leaving, where you are going, when you will expect to return

6) Have emergency flares on board

7) Have a way to communicate with somebody on-shore use a ship to shore radio

8) If you are riding a jet ski or wave runner, dont go it alone, have somebody else with you, preferably somebody who is in a boat
We recommend boaters review the waters before they head out and stay in areas that are not low lying. There is such potential to hit the bottom, run over rocks, floating debris or hit possibly another boater that we hope boaters will be careful. We have seen all kinds of boat insurance claims, especially those from consumers who have had an accident while towing their boat, adds DeFreitas.
The auto insurance agents at Gulf Coast Educators Insurance strongly recommend boat owners contact their insurance office prior to launching their boat to make sure they are fully covered and have also included insurance coverage for their Florida boat trailer.
We have seen some boats land on the actual boat launch resulting in severe structural and engine damage to the watercraft. This can happen very easily especially at the end of the day when boaters are tired and they forget to lock the boat winch when pulling their watercraft out of the water. We sympathize with boat owners when this unfortunate situation happens, explains DeFreitas.
Boat insurance for Florida residents can be fairly inexpensive. The insurance agents at Gulf Coast Educators Insurance recommend consumers talk with them before making their water craft purchase to learn more about all that they recommend be insured.
Some boat owners dont know that they should carry towing insurance on their boat. Accidents can happen with a boat even when its just sitting on the trailer in a garage or driveway let alone being towed down the road. Should a boat owner be in the path of a tornado or hurricane their water craft could have some damage or worse be totally destroyed in a storm. Having insurance coverage on both the boat, jet ski, waverunner and trailer are key, says DeFreitas.
In addition to boat insurance and boat trailer insurance Gulf Coast Educators Insurance also offers car insurance, auto insurance, Florida property insurance and homeowners insurance in Florida.
The Florida boat insurance agents at Gulf Coast Educators Insurance invite consumers and boat owners to contact their insurance offices in either Naples Florida or Port Charlotte Florida for more information about boat insurance, coverage for jet skis and wave runners. Consumers can call their offices in Naples at 239-591-0963 or in Port Charlotte at 941-391-5423 or request a Florida insurance quote online at: http://www.gulfcoasteducatorsinsurance.com.