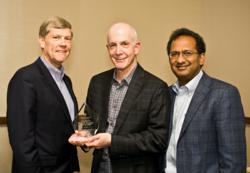 New York, NY (PRWEB) October 01, 2012
Robert M. Bernstein, M.D., F.A.A.D., A.B.H.R.S., a world-renowned hair transplant surgeon, presented a series of improvements to hair transplant procedures which use the ARTAS Robotic System for Follicular Unit Extraction (FUE). These updates include revisions to the FUE surgical protocol and technical adjustments to the robotic extraction system. He presented his refinements at the first user meeting held by the developers of the system; Restoration Robotics, Inc.; on September 14 16 in Denver, Colorado.
Dr. Bernstein described his series of improvements in a lecture to an elite group of physicians who are among the first adopters in the industry of the image-guided, robotic-assisted system. The updates are designed to improve the results of FUE hair transplantation by enhancing both the surgical protocols of the procedure as well as the functionality of the robotic system. In FUE, small groups of one to four hairs, called follicular units, are extracted individually from the back and sides of the scalp and are then implanted into recipient sites, which are tiny holes that the surgeon creates in a balding area of the scalp.
The most important update to the FUE procedure that Dr. Bernstein proposed is for surgeons to create recipient sites before they extract the grafts, rather than create the sites after grafts are extracted. Drawing on his decades of experience in hair transplantation, Dr. Bernstein developed this technique of pre-making recipient sites in order to maximize survival of the grafts during the hair transplant. Using this technique, extracted grafts are outside the body for a shorter duration of time. It also minimizes instances of popping, in which grafts are exposed to desiccation (drying) and hypoxia (low oxygen) before they are inserted back into the scalp. By pre-making the recipient sites, these harmful factors are mitigated and a greater number of the grafts grow into viable, hair-producing follicular units. Dr. Bernstein encourages surgeons to use this technique on all FUE procedures, whether using manual methods or robotic instrumentation.
When asked to comment on his improvements to the robotic FUE procedure, Dr. Bernstein said:
It was fortuitous timing that the ARTAS Robot became available just as I was developing my refinements to the FUE procedure. The combination of the automated robot for graft extraction with the technique of pre-making recipient sites has led to a significant improvement in hair transplant surgery.
Dr. Bernstein is the founder of Bernstein Medical Center for Hair Restoration, and he is recognized world-wide for his innovative work in the treatment of hair loss. He is among the first hair transplant surgeons in North America to utilize the ARTAS Robot for FUE in his practice.
Being an early adopter of the advanced Follicular Unit Extraction system has enabled him to work with Restoration Robotics to refine it to his exacting standards. Dr. Bernstein has, again, put his fingerprints on a revolutionary upgrade to the hair transplantation industry. He was the first to describe FUT and FUE procedures in the medical literature, in 1995 and 2002 respectively. In contrast to FUE, where follicular units are extracted individually, in FUT procedures a strip of skin is removed from the back of the scalp, it is then dissected into follicular units, and those follicular unit grafts are then implanted into recipient sites in the patients scalp.
About Dr. Bernstein
Robert M. Bernstein, M.D., F.A.A.D., A.B.H.R.S. is a Clinical Professor of Dermatology at Columbia University and a pioneer in the field of hair restoration. His landmark scientific papers are considered seminal works in the field of hair transplant surgery, and he is the most widely published author on the topic having published more than sixty articles, editorial reviews, books, and textbook chapters.
Dr. Bernstein has been selected as one of New York Magazines Best Doctors for thirteen consecutive years and he has appeared as a hair loss and hair transplantation expert on The Oprah Winfrey Show, The Dr. Oz Show, Good Morning America, The Today Show, The Discovery Channel, CBS News, Fox News, and National Public Radio. Dr. Bernstein has been interviewed or featured in articles in GQ Magazine, Mens Health, Interview Magazine, Vogue, the New York Times, and others.
About Bernstein Medical Center for Hair Restoration
Bernstein Medical Center for Hair Restoration is a state-of-the-art hair restoration facility and international referral center, located in midtown Manhattan, New York City. The center is dedicated to the diagnosis and treatment of hair loss in men and women. Hair transplant surgery, hair repair surgery, and eyebrow restoration are performed using Dr. Bernsteins pioneering techniques of Follicular Unit Transplantation (FUT) and robotic Follicular Unit Extraction (R-FUE).