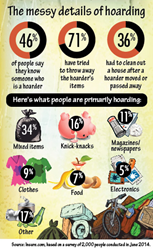 Foster City, CA. (PRWEB) July 21, 2014
Junk piled to the ceiling, bugs on food, used cat litter, rat droppings, dead animals, stacks of fast-food cups, boxes of empty pill bottles, and used Band-Aids are among the items seen in hoarders houses by respondents to a new survey by Insure.com, an independent consumer insurance website.
According to a survey of 2,000 adults, 46 percent know someone who hoards, and 6 percent of people identify themselves as hoarders.
Among people who know a hoarder, 36 percent said they had to clean out a house after a hoarder moved or passed away.
Compulsive hoarding is a disorder that goes beyond collecting or lack of cleaning. Hoarders are unable to stop adding to their piles, and the items end up impeding daily activities. Hoarders may feel emotional attachments to objects that others regard as trash, even while health, fire, and even structural hazards are apparent to others.
A stack of old newspapers doesnt necessarily make you a hoarder, said Amy Danise, editorial director of Insure.com. A stack of old newspapers that blocks a door does.
Heres whos hoarding, according to survey results:
1.