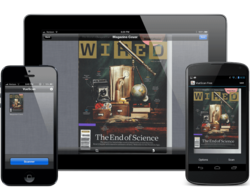 Phoenix, AZ (PRWEB) March 08, 2013
Hamrick Software, the developer of VueScan, the world's most widely used scanning software, has released VueScan Mobile version 2.1 for iPad, iPhone and iPod touch adding the ability to use the camera as a scanner.
VueScan Mobile available since 2011 – allows you to seamlessly scan documents and photos straight to your iPad, iPhone or iPod touch from any HP, Canon, or Epson WiFi printer/scanner.
The new camera scanning function allows anyone with a phone with a camera facility to easily take photos and store them in a JPEG or PDF format. VueScan Mobile automatically detects and crops the document in the photo, and allows you to save it, e-mail it or save to the clipboard.
In addition to sending via e-mail and saving to the Photos App, VueScan Mobile also allows you to save scanned images to your favorite iOS apps that can open PDF or JPEG files such as iBooks, Dropbox, GoodReader and Evernote.
VueScan Mobile uses the Wi-Fi connection on your iOS device to find scanners connected to the same Wi-Fi network. If the scanner has a document feeder, VueScan first checks to see if there is a document in the feeder, otherwise it scans from the flatbed.
We have been working hard on the camera development, said David Hamrick, Partner at Hamrick Software. We wanted to make sure that the quality and ease of use are excellent. We have been testing the camera facility extensively and have received excellent customer reviews.
The VueScan Mobile App makes scanning extremely convenient. Simply press the green Scan button and, in a few seconds, the document will appear on your iPad, iPhone or iPod touch. Ed Hamrick, developer of VueScan, said This opens up the world of scanning for people on the move. Anyone who can take a photo with their camera can now email it directly, or store it for later. This makes VueScan Mobile even more of a "Scanner in your Pocket."
VueScan Mobile is available in two versions. The free version which scans with all supported scanners at 300dpi and can export JPEG images this is available for iPhone, iPad, Android device or Kindle Fire from Canon, HP and Epson WiFi MFPs.
The full version at $ 4.99 supports document feeders, duplex, document management and multi-page PDF. The VueScan Mobile Free App for Android devices is available in the Google Play App store, the Amazon Appstore and directly from http://www.hamrick.com. The full version is available for purchase from the App Store on iPad, iPhone and iPod touch, or at http://www.itunes.com/appstore.
Based in Phoenix, AZ, Hamrick Software was founded in 1991. Its first product was VuePrint, an easy to use JPEG viewer for Windows that for many years was the recommended image viewer for AOL, with more than 100,000 users. In 1998, the company first released VueScan, a program for scanning with flatbed and film scanners, there are now more than 300,000 users all over the world and over 2,100 scanners are supported.
For more information, contact:

Hamrick Software

4025 E. Chandler Blvd., Suite 70-F16

Phoenix, AZ 85048

E-mail: support(at)hamrick(dot)com

http://www.hamrick.com