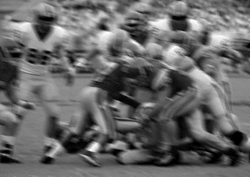 Austin, Tx (PRWEB) May 31, 2014
Target Public Marketing recently published an article on its website about an interesting case in which a client had their website traffic lowered because of sponsorship links.
The situation may be affecting others so the company is releasing more broad information.
On a routine check of website traffic, it was noted that the client's traffic had abruptly dropped. There was no apparent reason for this until the company found that the client had a large number of new links to their website, over 60, from a university athletic program.
When the client was contacted, it was found that they had entered into a sponsorship arrangement to support the athletic program and the university in appreciation had placed a large number of sponsorship notices acknowledging the support on their website. Each notice had a link back to the clients website.
Unfortunately, this situation violates Googles Terms of Service in several ways. Without getting complex, Google views this type of link as spam and an attempt to improve a websites search engine rankings by paying for the links, no matter how noble the contribution. Googles search engine automatically looks for such link schemes and without any warning or notice when found, traffic drops to the website that is the beneficiary of the arrangement.
It is totally possible to keep the links without incurring the Google penalty. To do so, Target Public Marketing contacted the university athletic programs webmaster on behalf of its client and asked them to add a bit of code to each link so Googles search engine would ignore them for search ranking purposes. The coding tells the search engine to no follow the links. The marketing company suggested they do this for all their sponsors because the negative value of these links would also be hurting their websites.
While these links are now useless for SEO purposes, the links are still there so people can use them to go to the clients website which was the intention to begin with.
Shortly after implementing this, Target Public Marketing noted that the traffic to the website went back up to its higher range.
Here are some tips:
1. DO NOT, DO NOT, DO NOT fall prey to any emails that promise an increase in website search rankings by purchasing links. This can actually destroy a websites traffic from Google and make it practically impossible to recover from. Weve seen it happen.
2. This same trouble can occur with online ads purchased for a business.
If a company is doing an online sponsorship or buying online ads, all links to their website must be no follow and this should be ensured as part of the deal.
3. We can be contacted for advice.
The moral of the story is dont let your website traffic get tackled by Google!
For assistance or more information, contact:
Al Anthony

Target Public Marketing

888-788-5124