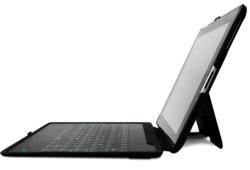 Taipei, Taiwan (PRWEB) December 22, 2012
Hatch & Co. is introducing the worlds slimmest iPad keyboard case, 2-SKINNY, a protective iPad case with ultra slim keyboard featuring Touch technology and backlight technology. The 2-SKINNY will fit iPad 4 with retina display, the new iPad (3rd generation) and iPad 2.
Following Hatch & Cos philosophy in combining quality, functionality and design into the products, this all-in-one solution offers a stylish case, an ultra slim Touch keyboard and the convenience of the backlit keys. Utilizing the unique Touch technology that was originally designed for mobile phones, measuring only at 0.07 inch (2mm) at the thinnest point of the keyboard, the 2-SKINNY is not only ultra thin but is also very responsive.

The same technology produced in a seamless keyboard design (no spaces between keys), which means there is no need to worry about dropping cookie crumbs or spilling coffee. The keyboard with backlight offers a unique look as well as the convenience of typing in the dark as the keys light up.
We are excited to present another break-through by effectively merging the backlight technology with the Touch keyboard technology, creating unique user-experience while providing functionality. said Kenny Chen, General Manager of Hatch & Co.
2-SKINNY comes with unique features that are sure to attract attention:


Backlight: Similar to the keys that lights up on a MacBook, 2-SKINNYs keyboard comes with backlight, illuminating the keyboard from the back provides a unique look while allowing the users to see the keyboard while typing in the dark.
Incredibly Light & Thin: The keyboard itself is only 0.07 inch (2mm) at the thinnest point and 0.27 inch (7mm) at the thickest point. The whole case barely adds any thickness and weight to the iPad.
Cutting Edge: Utilizing Touch technology, developed originally for mobile phones, making the keyboard incredibly responsive.
Worry-Free: With no spaces between keys, there is no need to worry about dropping cookie crumbs or spilling coffee over the keyboard.
Wireless: Connect to the iPad via Bluetooth.
Low Power Consumption: Battery standby time: 45 days. Battery working time: 68 hours (LED backlit off). Battery working time: 3 hours (LED backlit on).
Convenience: Multimedia hot keys allow easy navigation to home screen, as well as to control volume, music, and input languages.
Power Saving: Designed with special mechanism to keep the case securely closed and to put the iPad to sleep when the case is closed.
Protection with Stand: The case securely protects the iPad while keeping the key functions and external buttons easily accessible. It can also be easily transformed to a stand.
The designers and the engineering teams spent lots of time fine-tuning 2-SKINNY so that we can continue to follow our philosophy in creating innovative products which combine Functionality, Quality and Design. 2-SKINNY provides great functionalities and comes with a personality! said Mao Wang, Creative Director at Hatch & Co..
Hatch & Co. also offers other functional products including the Firefly (stand-alone universal Bluetooth keyboard with backlight), and SKINNY+ (enhanced version of SKINNY, touch keyboard case for iPad with five color options). They are now available on Amazon.
About the company:

Hatch & Co. is committed to make lifestyle accessories for people who drive change. Hatch aspires to look at the world with fresh eyes and combine functionality, quality and design in Hatch's creations. For more information, visit Hatch & Co. on the web at http://www.HatchnCo.com.
Like us on Facebook: http://www.facebook.com/hatchnco

See us on CES 2013 – Booth No. 35555 Located at the LVCC South Hall section 4 – 2nd Floor.

Buy it now!