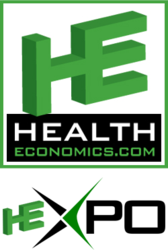 Ponte Vedra Beach, Florida (PRWEB) May 19, 2013
HealthEconomics.Com, the global leader on healthcare value and market access, is pleased to unveil a new and exciting service: HE-Xpo: a media-rich, interactive, online trade show environment that provides a powerful array of real-time communication tools to expand their digital communication solutions to partners in the US and abroad.
HE-Xpo is powered by OnStream Medias MarketPlace365 technology, and will offer attendees the look and feel of being at a physical trade show, all within an intuitive web-based platform accessible by computer, smartphone, and tablet twenty-four hours a day, seven days a week, and three hundred sixty-five days a year. Powerful SEO techniques, next-generation communication tools, and built-in lead generation through custom analytics give partners with HE-Xpo new and targeted solutions to elevate their digital marketing to new heights well beyond traditional methods.
HE-Xpo is comprised of different rooms such as the Auditorium, Learning Center, Exhibit Hall and Social Media Lounge. By entering the Auditorium, HE-Xpo attendees will be able to participate in live webinar events featuring presentations, audience polling, Q&A and more. The Learning Center is a multimedia library featuring unlimited user-uploaded content for view or download, all arranged by specific categories. In the Exhibit Hall, exhibitors with HE-Xpo can showcase their products and services in a virtual booth containing an unlimited amount of compelling media. Attendees can interact with representatives through real-time chat, view videos and other presentations, look at brochures, documents, catalogs and more. The Lounge is the social media hub of HE-Xpo, with forums linking to social media sites such as Twitter, LinkedIn, Facebook and others. Exhibitors can feature their blogs, podcasts, news and RSS feeds, and generate real-time interaction through the scheduling of live chat with special guests.
HE-Xpo is unique in the field of healthcare value and market access, and there is nothing like it anywhere in the pharmaceutical industry, says Dr. Patti Peeples, President and Founder of HealthEconomics.Com. In a recent reader survey of HealthEconomics.Com users, 72% of survey participants said Virtual Conferences like HE-Xpo would be a valuable addition to the services we offer. To answer that growing demand, we created HE-Xpo as a way to give the global health economics and outcomes research community a powerful new resource to engage and interact real-time with their colleagues across the world, potential customers, and stakeholders.
The healthcare industry is in the midst of an important debate about how to bring value to patients, providers, pharmaceutical companies and other stakeholders, as well as how to facilitate and regulate market access to life-saving procedures and treatments, said Randy Selman, President & CEO of Onstream Media. A virtual marketplace such as HE-XPO is an ideal forum for elevating the healthcare value and market access discussion. Onstream Media is thrilled to be providing the virtual event technology, MarketPlace365, to facilitate communication and exchange in this important field.
For more information about participating in HE-Xpo, contact Dr. Patti Peeples. You can view a video highlighting the features of HE-Xpo here.
About HealthEconomics.Com (http://www.healtheconomics.com):

A pioneer in the field, HealthEconomics.Com is the global authority in healthcare value and pharma market access. Each day, HealthEconomics.Com compiles the latest news, policy updates, resources, conferences, and jobs for BioPharmas professionals involved in health economics, outcomes research, market access, and pricing. A trusted resource, HealthEconomics.Coms comprehensive content is carefully selected by a discerning health economist editor, making it the most visited website for healthcare value and market access in the industry, with visitors encompassing all corners of the globe.
About OnStream Media (http://www.onstreammedia.com):

Founded in 1993, Onstream Media is a leading, online service provider of live and on-demand, rich media communications via the Onstream Digital Media-Services Platform. Specializing in online audio and video corporate communications, Onstream Media's pioneering, digital-asset-management active server pages (ASP) technology provides the necessary tools for webcasting, web conferencing and content-publishing services focused on increasing productivity and revenues in an affordable and highly secure environment for any organization. Today, Onstream Medias digital-media services are used by many Fortune 100 company executives to broadcast their announcements in sales, marketing, communications, Investor Relations, Human resources and training.
News Media interested in receiving the most current information on healthcare value and market access may obtain a free subscription to HealthEconomics.Com by visiting the site or by subscribing to the HealthEconomics.Com Newsletter.