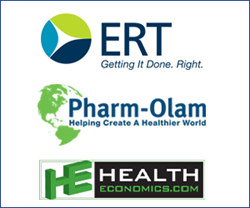 Ponte Vedra Beach, FL (PRWEB) January 13, 2014
Two leading pharmaceutical clinical trial experts presented a webinar on January 9, 2014 entitled Running Successful Trials in Emerging Regions: Using Technology to Maximize Success. The webinar, attended by clinical trial researchers worldwide, was sponsored by ERT and Pharm-Olam International, and produced and moderated by HealthEconomics.Com. ERT is a leading global solution provider for high-quality patient safety and efficacy endpoint data collection. Pharm-Olam International is a global full-service Contract Research Organization providing clinical services to pharmaceutical, biotechnology and medical device organizations, while HealthEconomics.Com is a website portal and Connected Community serving as the global authority in healthcare value, health outcomes, and pharmaceutical market access.
Webinar speakers included Wolfgang Summa, PhD, Vice President of Outcomes Delivery and Support for ERT, and Yamin Mo Khan, Executive Vice President of Global Clinical Development at Pharm-Olam International. The Webinar Moderator was Patti Peeples, PhD, the Founder and CEO of HealthEconomics.Com. An on-demand version of the Webinar may be accessed here and a copy of the presentation is available by request at events(at)ert(dot)com.
Global Clinical Trial eCOA (Clinical Outcome Assessment) was presented by Dr. Wolfgang Summa, whereby eCOA was contrasted with patient reported outcomes (PRO), and various eCOA modality options were reviewed, including electronic pens, interactive voice response, SMS (short message service) text messaging, hand-held devices, web-based methodologies, and smart phone apps designed for data collection. Other considerations in implementing global clinical trials were covered including cost of modalities, linguistic validation, multi-lingual training, help desk services, packaging, and supply chain management processes.
Dr. Yamin Mo Khan presented the topic, Landmines in Conducting Trials in Emerging Regions, including patient challenges, legal and regulatory hurdles, access issues related to centralized healthcare and government involvement, as well as differences in patient-reported outcomes within various emerging market regions. Khan contrasted European countries in terms of established emerging markets versus newly emerging arenas, as well as provided insights into the conduct of clinical trials throughout Africa, Latin America, and Asia. Regulatory standards by region and trends in customs management were discussed.
The archived webinar may be accessed on-demand by visiting http://www.visualwebcaster.com/HealthEconomics/97167/reg.html.
About ERT:

ERT (http://www.ert.com ) is a leading provider of high-quality patient safety and efficacy endpoint data collection solutions for use in clinical drug development. ERT delivers a combination of technology, services, and consulting that increase the accuracy and reliability of patient data and improve the efficiency of the clinical development process throughout the product lifecycle. ERT delivers the most widely deployed solutions in centralized cardiac safety, respiratory services, suicide risk assessment and Clinical Outcome Assessments (COAs) which includes patient, clinician, and observer reported outcomes. By efficiently integrating these solutions through a system built upon a scientific and regulatory foundation, ERT collects, analyzes, and delivers safety and efficacy data critical to the approval, labeling, and reimbursement of pharmaceutical products. ERT is a global organization with headquarters in Philadelphia, PA and offices throughout the U.S., U.K., Japan, and Germany.
About Pharm-Olam International:

Pharm-Olam International (POI) (http://www.pharm-olam.com ) is a multi-national contract research organization offering a wide range of comprehensive, clinical research services to the pharmaceutical, biotechnology and medical device industries. From Phase I to Phase IV, POI focuses on delivering the highest quality data, achieving targeted enrollment and meeting projected timelines.
About HealthEconomics.Com:

A pioneer in the field, HealthEconomics.Com (http://www.healtheconomics.com) is the global authority in healthcare value and market access. Multiple times per day, HealthEconomics.Com compiles the latest news, policy updates, resources, events, and jobs for BioPharmas professionals involved in health economics, outcomes research, market access, and pricing. A trusted resource, HealthEconomics.Com is one of the most visited websites for healthcare value and market access in the industry, with visitors encompassing all corners of the globe. News Media interested in receiving the most current information on healthcare value and market access may access for free any resources and news on HealthEconomics.Com by visiting the website or by subscribing to the weekly HealthEconomics.Com Newsletter.