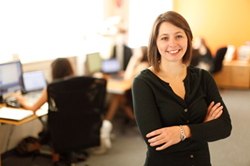 Charlottesville, VA (PRWEB) March 11, 2014
Well-designed and optimized landing pages are essential for the success of any paid media campaign in order to drive conversions and achieve marketing goals. Digital marketing agency Marketing Mojo will reveal some of their landing page secrets during the upcoming webinar "The Secrets of Landing Page Success: Optimization Best Practices and Case Studies," taking place on March 13, 2014 at 2 p.m. ET.
During the webinar, Marketing Mojo's Design Optimization Manager Jenny DeGraff will tell the stories of actual clients, the improvements that were made to their landing pages and the results of those experiments.
"Few digital marketing tools are as useful, versatile, or necessary as a well-designed and optimized landing page," said DeGraff. "No landing page is ever perfect, but through testing, a landing page can easily increase conversion rates for any paid media campaign, whether for a B2C brand, B2B company or nonprofit organization."
During this webinar, marketing professionals will hear about:

Case studies across a variety of industries and verticals
Creative landing page designs utilizing best practices, including before and after examples
Landing page optimization tips and takeaways from each case study
To register for the webinar, go to marketing-mojo.com/lp/lpo/.
About Marketing Mojo
Marketing Mojo is a full-service, data-driven online marketing and demand generation agency. Originally founded in 2005 as Search Mojo, Marketing Mojo has evolved its core services to adapt to the ever-changing needs and challenges of marketers helping them to achieve their online marketing goals through search marketing, paid media, content marketing and marketing automation. With experience in a wide range of digital marketing disciplines, the Marketing Mojo team uses the latest information and techniques to help companies maximize the sales funnel and get the highest quality results based on their goals. For more information, visit Marketing Mojo at marketing-mojo.com or read the Marketing Mojo blog at marketing-mojo.com/blog.