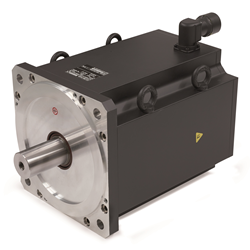 Schaumburg, IL (PRWEB) February 18, 2015
Expanding its offerings of synchronous motors, HEIDENHAIN Corporation introduces the new QSY 260B and QSY 260C EcoDyn series of servo motors with stall torque of 85.0 Nm and 120.0 Nm, respectively. Of particular use on machine tools, these HEIDENHAIN motors provide low torque ripple which guarantee high speed stability and positioning accuracy, resulting in parts with superior surface quality.
With these new HEIDENHAIN servo motors, a high rotor moment of inertia provides for high maximum acceleration and high load inertia. Common applications for these motors types include large boring mills and other heavy load machining.
Motors of the EcoDyn series are characterized by reduced current consumption together with higher rated torque and a max. permissible rated speed of 3000 min1.
These motor come standard equipped with either incremental or absolute HEIDENHAIN rotary encoders.
For more information, contact HEIDENHAINs Public Relations Manager Kathleen Stoneski at (847) 519-4702 (kstoneski(at)heidenhain(dot)com) or write to us at HEIDENHAIN CORPORATION, 333 E. State Parkway, Schaumburg, IL 60173. HEIDENHAIN can also be accessed directly via our web site at http://www.heidenhain.us.
HEIDENHAIN CORPORATION is the North American subsidiary of DR. JOHANNES HEIDENHAIN GmbH, a leading international manufacturer of precision measurement and control equipment. Our product line includes linear scales, rotary and angular encoders, digital readouts, digital length gages, CNC controls, and machine inspection equipment.

#
Downloadable digital image is available at:

http://www.heidenhain.us/Images/pr_images/ECO_DYN-QSY260C-Motor.jpg