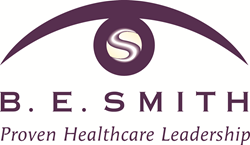 LENEXA, Kan. (PRWEB) April 23, 2015
B. E. Smith, the only full-service leadership solutions firm dedicated exclusively to healthcare providers, has been retained to lead a national chief quality officer recruitment for Helena Regional Medical Center in Helena, Ark. The top executive search firm in the healthcare industry, B. E. Smith has recently placed more than 900 healthcare executives into organizations.
Helena Regional Medical Center is a 155-bed facility offering complete inpatient and outpatient care to the residents of Helena and the surrounding Arkansas communities. The medical center includes a Level IV Trauma Center and provides a wide range of services including emergency, surgical, rehabilitation, womens health, pediatrics, wound care, pulmonary and respiratory health, laboratory, diagnostic imaging as well as home health. Helena Regional Medical Center is dedicated to providing excellent care for patients, and creating a safe work environment for physicians and staff. The medical center received the Best Achievement Award for quality improvement efforts by the Arkansas Foundation for Medical Care in 2012. Helena Regional Medical Center is part of Community Health Systems (CHS), one of the nations leading operators of general acute-care hospitals. CHS owns, operates or leases 203 hospitals in 29 states with approximately 31,100 licensed beds.
Helena Regional Medical Center is seeking a chief quality officer to provide innovative, strategic leadership to the quality division. The new CQO is responsible for the planning, administering and monitoring consistent readiness of all quality management, regulatory requirements and quality improvement processes. Specific areas of direct responsibility include risk management/disaster coordination/infection control, core abstractor/employee health, medical staff coordination, imaging services, as well as laboratory and cardiopulmonary services. The CQO will oversee and coordinate all hospital efforts to monitor and maintain compliance with all regulatory, state, federal and joint commission standards. Additionally, the CQO will build a positive relationship with physician, and partner with the Regional Quality Director of CHS to ensure alignment with system goals and initiatives.
The complete job posting for Helena Regional Medical Centers CQO position can be found on the B. E. Smith website.
About Helena Regional Medical Center:

Helena Regional Medical Center is your community healthcare provider; a 155-bed facility providing complete inpatient and outpatient care to Helena and the surrounding Arkansas communities. A joint commission accredited facility, Helena Regional Medical Center works hard every day to be a place of healing, caring and connection for patients and families. Visit http://www.helenarmc.com for more information.
About B. E. Smith:

Founded in 1978, B. E. Smith is a full-service healthcare executive search firm and the top-ranked provider of senior-level leadership services including Interim Leadership, Executive Search and Advisory Services. Veteran healthcare recruiters and regional healthcare experts partner with each client to create customized solutions. B. E. Smiths proven methodology has resulted in the recent placement of more than 900 leaders into healthcare organizations worldwide. The firm utilizes a comprehensive sourcing strategy incorporating the latest marketing techniques, association partnerships, social networking and one of the largest databases of skilled senior-level healthcare executives in the industry to deliver immediate results in todays complex healthcare environment. For more information, visit BESmith.com or call 855-254-8261.