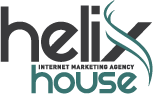 TUCSON, AZ (PRWEB) April 23, 2013
Helix House is a rising star in the online marketing arena that provides comprehensive Internet marketing services to a full spectrum of companies and businesses across the country. In adding to its long list of customer-centric services, Helix House now makes available to clients a fully dedicated agent in a local office where the client may visit if they so desire. This is an important distinction with regard to the Helix House product because currently there are few Internet marketing companies in operation today that offer this type of personal service. This added personal touch sets Helix House apart as a company that delivers genuine customer service to its valued clients.
As a growing number of brick and mortar businesses move to the Internet to gain clientele and brand identity as well as increased sales, these businesses will require help with online marketing complexities. Helix House stands ready to provide this service to businesses large and small. There are a number of measurable benefits to having a dedicated Internet marketing expert oversee and watch a clients online marketing campaign. For example, a dedicated agent that closely monitors a particular clients campaign can provide details regarding the progress of that campaign on a regular and routine basis. Another important aspect of this concept with regard to Helix House is that while the service is local in nature and personal it is still provided by a major company in the online marketing world. In fact, Helix House is consistently ranked one of the best online marketing companies in the business.
With the resources of a large and established Internet marketing firm such as Helix House and its direct personal one-on-one interaction with dedicated agents in a local office, clients are guaranteed to get quality online marketing services. Helix House typically advises new clients to meet face-to-face at least once per month with their dedicated agent to ensure the best in success with regard to their online campaign. In addition, forging new ground in customer service excellence, Helix House strives to ensure that clients have their dedicated agents cell phone number. This is so that they may be in contact at any time with their agent regarding their online marketing campaign. This is just one more example of the impressive strategies incorporated by Helix House into every online campaign they formulate for their clients.
Helix House is a highly innovative forward looking Internet Marketing Agency located in sunny Arizona and breeze New Mexico that has consistently exceeded industry expectations to continually rank highest among some the best SEO companies in the country