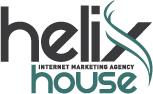 Tempe, AZ (PRWEB) February 13, 2014
Helix House, an industry leader in Internet marketing that includes search engine optimization and social media marketing is proud to announce its official winning position in the Ranking Arizona 2014 Best SEO/SMM company award. The company continues to receive accolades, awards and acknowledgments with regard to its highly effective Internet marketing strategies. The company is also very pleased with this recent accomplishment and looks forward to continuing its expansion and growth by helping more businesses than ever before achieve greater online recognition. The Ranking Arizona 2014 Best SEO/SMM company award is further evidence that when Internet marketing experts are combined with the latest technology and techniques in online marketing, businesses stand to gain market share. Helix House offers a winning combination of knowledgeable marketing experts and smart Internet marketing techniques.
Cofounder, Mike Donato, is thrilled with this latest accomplishment and believes the company is perfectly poised for continued growth as more and more companies turn to Internet marketing as a primary way to gain recognition in their particular industry. As marketing efforts by many companies, large and small, shift away from conventional or classic style marketing such as television and print, companies like Helix House will be increasingly called upon for guidance and assistance. The company specializes in a host of search engine optimization strategies as well as carefully crafted social media marketing techniques. In addition, the company offers a full array of other marketing strategies such as text and e-mail marketing and even video marketing. Companies wishing to gain the competitive edge are looking to quality Internet marketing companies like Helix House today more than ever before.
BestCompainesAZ.com is a company that monitors some of the best award-winning companies in Arizona. As a result BestCompainesAZ.com routinely produces a list of top performing Arizona companies. Various Arizona organizations in different categories are nominated and awarded based upon their ability to deliver quality services and products throughout the state. Every year BestCompainesAZ.com and Ranking Arizona evaluate companies across a wide range of metrics in order to determine which companies are best to work for in the state of Arizona. Helix House scores consistently high each and every year and as a rule appears in the top tier of Internet marketing agencies. Helix House has achieved remarkable results for a wide variety of companies seeking improved online visibility over the years and continues to deliver stellar performance with regard to innovative and cutting-edge Internet marketing strategies. The best Arizona companies to be associated with are presented on a regular basis by various publications offered through BestCompainesAZ.com. Helix House is delighted with this recent official winning position in the Ranking Arizona 2014 Best SEO/SMM company award.
Helix House is a highly innovative forward-looking Internet marketing agency located in sunny Arizona and beautiful New Mexico. The company has consistently exceeded industry expectations to routinely rank highest among some the best Internet marketing companies in the country. Recognized as an industry leader, this Internet marketing firm has helped hundreds of businesses across the country to gain better online ranking.