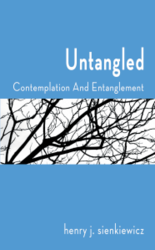 Alexandria, VA (PRWEB) June 06, 2013
The world is an increasingly complex, interconnected place that pounds people with unrelenting images, sounds and messages via social media, the Internet and cell phones. In this new book, author Henry Sienkiewicz draws from Eastern and Western philosophy to examine what he calls a hyperconnected web of the modern world. He challenges readers to embrace active contemplation and its tenants of silence, stillness and solitude as one way to counteract the entanglements of the world.
Untangled: Contemplation and Entanglement reveals its message through the metaphor of a journey in Taiwan undertaken by Boy Scouts and adult leaders. As they walk the trail, they take in their surroundings, at times following a path made by others and at other times forging their own way. Just as their neatly coiled twine became snarled during the journey, so too can mental backpacks become entangled messes in daily life. But entanglement, as the author points out, isnt automatically a bad thing whether it affects a relationship, spirituality, the physical world or someones career; it might be accidental or inconsequential. As he writes, Entanglement may be the vines that catch your feet. Or it may be the limbs that brush your arms. Or it could be the rope that safely holds you onto the mountain.
Active contemplation provides a way to sort through entanglements at all levels. Untangling from the complexities of the world allows people to make well-informed choices, providing an approach to making the world more understandable and offering insights into who they are, how they relate to the greater community and what is truly important. Group discussion questions at the end of this evocative book further enhance the readers experience.
This is the second book for author Henry J. Sienkiewicz , who also wrote Centerlined, which focuses on interpersonal and organizational dynamics. Sienkiewicz, a thought leader in innovative technology, cybersecurity and organizational dynamics, has a bachelors degree from the University of Notre Dame, a masters degree from Johns Hopkins University and graduated from the U.S. Army Command and General Staff College. The award-winning technologist and Eagle Scout has experience in not only technology but in languages, defense and political theory. Sienkiewicz retired as an Army Reserve lieutenant colonel in July 2008 and since then has served in the U.S. Federal Senior Executive Service.
———-
For additional information, please visit http://www.untangledthebook.com.
Corporate/bulk discounts, author signings and book club appearances are available.
Untangled: Contemplation and Entanglement

Henry Sienkiewicz

Dog Ear Publishing

ISBN: 978-1-4575-1826-3