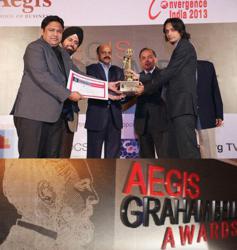 Ahmedabad, Gujarat, India (PRWEB) November 23, 2012
Hidden Brains, the pioneer mobile and web application development company from Ahmedabad, India has bagged the prestigious Aegis Graham Bell Award 2012 for SmartINet – a green initiative for saving energy through mobility.
Instituted by the Aegis School of Business and Telecommunication, Mumbai, the Graham Bell Awards recognize innovation and outstanding contributions in telecom. The selection process of the Aegis Graham Bell Awards 2013 winners was based on various parameters such as innovativeness, market potential, social potential, sustainability and interoperability through a detailed methodology, reliable process validation and research conducted by Price Waterhouse Coopers. The jury comprised of the veterans from Indias IT and Telecom industry.
Mr. Ram Chhawchharia, CTO and Mr. Pramod Sinha, Director – Sales, received the award on behalf of Hidden Brains Infotech Pvt Ltd. The award was presented by V. P. Chandan: Hony. Director, Aegis School of Business and Telecommunication; Director, Punjab Communications; Consultant, World Bank, Former President, Qualcomm India; Baburajan Kizhakedath: chief editor of Telecom Lead, Kizhakedath Media Services Pvt. Ltd. and Anuraj Gambhir: Telecom Industry Visionary.
On this occasion Mr. Vishal Chhawchharia, CEO Hidden Brains, commented, It is an great honor to receive this eminent award. SmartINet will create a turning point in Energy Sector for developed as well as emerging market. He further added, This recognition is very significant for team Hidden Brains. Winning this prestigious award where the industry is changing very fast and thousands of entrepreneurs across the globe are coming up with new ideas on daily basis, is a great achievement. We promise to continue the good work with renewed focus on R&D and will keep on delivering better and more innovative solutions.
Hidden Brains' SmartINet won the Aegis Graham Bell award for the concept which can radically change the energy utilization and controlling process. The SmartINet empowers both the end user and the provider with diverse options to operate, manage & monitor multiple devices for power controlling using smart phones in the segment of Global Home Automation & Control System.
This award gave us much reason to celebrate; we got this despite a tough competition from hundreds of industry veterans. Mr. Vikash Chhawchharia, CFO Hidden Brains, said. SmartINet will change the dynamics of Energy Sector by giving more power to end user, thereby enabling an economic shift.
Commenting on the company perspective and expected result of winning Aegis award the company spokesperson mentioned that, This award (Aegis Graham Bell) is the only platform that helps to position an organization as a brand which invests in talents and recognizes the value of innovation. It helps to break through the clutter of media and promote innovative ideas, technology and Business Solutions in telecom. It offered excellent networking opportunity and brand exposure to more than hundred CXOs and decision makers in the Industry. It was a great learning experience for team Hidden Brains. We are certainly delighted.
Initiated by Aegis School of Business and Telecom & 21st Convergence India, the Aegis Graham Bell Awards honor the best innovations in the field of TIME (Telecom, Internet, Media and Edutainment categories). This award is supported by COAI (Cellular Operators Association of India) and had PwC as Knowledge Partner for validating the awards. Aegis also had Amdocs as Associate Partner and Bloomberg TV India as Media Partner. Total 113 nominees for Aegis Graham Bell Award 2012 included IT and Telecom Industry leaders like: Cisco, Airtel, Nokia-Siemens, Ericsson, Idea, Infosys, Mahindra Satyam, Reliance, Star India, TCS and many more.

Aegis Graham Bell Awards is the only platform intended to promote innovation in the field of Time and to provide recognition for outstanding contributions.
====================

ABOUT HIDDEN BRAINS

====================
Hidden Brains is an innovative web, mobility application and embedded solution provider firm with a decade's worth of experience in providing breakthrough technology solution for global business needs. This pioneer in offshore software development is located in Ahmedabad, Gujarat, India and was established in the year 2003.
The core expertise of Hidden Brains lies in – web development using latest technologies like Ruby on Rails, AJAX, HTML5, .Net, PHP, ColdFusion etc. Also, being one of the early adapters of mobility, Hidden Brains is globally recognized for development of native and universal cross platform applications for iPhone, Android, Blackberry, Windows, Symbian mobile and all the tablets. HiddenBrains is involved into Embedded R&D from last two years, providing broad spectrum of services such as Technology Research and New Product Development.
From the very beginning the key focus of Hidden Brains has been to deliver quality solutions in an utmost ethical manner. Hidden Brains continuously pushes the boundary of technology to create outstanding solutions. The organization has a long standing history of customer centric approach and commitment.
Hidden Brains management comprises of talented and experienced individuals with strong will to succeed. Their vision, strong leadership skills and unflinching commitment towards business helped Hidden Brains to become a market leader in web, mobile and embedded solutions.
Looking to the future Hidden Brains see a significant repositioning of technology, the opportunities are not just add-ons or improvement to existing platforms. IT is becoming more social driven, it is no longer constrained to large multinationals, neither is capital intensive. Hidden Brains aspires to continue the growth story and move forward to cross more milestones.