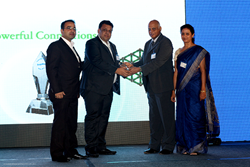 Ahmedabad, Gujarat, India (PRWEB) October 25, 2013
Hidden Brains Infotech Pvt Ltd, an internationally acclaimed Enterprise Web & Mobile Application Development services provider, received the prestigious Deloitte Technology Fast 50 India 2013 Program Award on 18th Oct, 2013 at the ITC Royal Gardenia, Bengaluru, India. The award was received by Mr. Vishal Chhawchharia the CEO and Mr. Vikas Mishra the Exec. Director of Hidden Brains. Hidden Brains ranked 25th in the overall ranking.The Senior Director of Deloitte Touche Tohmatsu India Private Limited – Mr. Rajiv Sundar, the Director of UK Trade & Investment (UKTI) – Mr. Barry Lowen as well as, Mr. T. K. Kurien the CEO and Exec. Director of Wipro Ltd. were some of the eminent personalities of IT Industry who attended the event.
Every year, the Deloitte Technology Fast 50 India program identifies the top 50 fastest growing technology companies in India, based on the annual revenue growth per centum over the past three financial years. It provides a platform to gain global spotlight, generate interest from investors and partners and build network with industry peers. Congratulating Hidden Brains, Mr. Rajiv Sundar, Senior Director, Deloitte in India said, Finding a place in the Deloitte Technology Fast 50 India ranking is a testament to a companys commitment to successfully transitioning their idea and technology to commercial viability, he further added, With such impressive growth rate over three years, Hidden Brains is showing that it has the vision and determination to grow despite a challenging environment. With the winning of tthis Award, Hidden Brains also qualifies for automatic nomination to Deloitte Technology Fast 500 Asia Pacific 2013.
Hidden Brains has been honored by global giants for its commitment to deliver quality and innovation. By recognizing Hidden Brains as one of the top 50 companies of India, this Award inspires the team to excel in their fields and validates Hidden Brains next step to success and growth by reaffirming continuous strive for excellence and quality. It also seals Hidden Brains commitment to customer delight and efforts suitable to all businesses whilst encouraging an environment to achieve contributions and efforts.
About Hidden Brains:
With an industry experience of over a decade, Hidden Brains have dealt with 1,920+ happy customers worldwide with the retention rate of more than 75%. Our strength of 375+ exceptionally talented professionals created over 700 mobile and 3,350 web applications. Currently, Hidden Brains is one of the most appreciated web and mobile solution provider all over the globe. Headquartered in Ahmedabad, India, it has presence in the USA, Germany, Norway and the UAE. For more information, please visit: http://www.hiddenbrains.com.
Follow Hidden Brains on: Facebook, Twitter, Google+, and Youtube.
About Deloitte:

In India, spread across 13 locations with over 20,000 employees, Deloitte renders tax, audit, financial advisory and consulting to its public and private clientele across multiple industries and verticals. Bringing globally recognized capabilities and high quality services, the company has member firms in over 150 countries. Deloitte delivers insights to most complex business challenges with 200,000 professionals. Deloitte professionals enjoy an environment of continuous learning whilst fostering a culture that nurtures great values, integrity to their clients and market. Deloitte is dedicated to consolidate corporate responsibilities, cementing public trust and creating a positive impact in the community.
Media Contact:

Mr. Pramod Sinha

Phone

USA : +1- 323-908-3492

India : +91-989-802-1433
Email: contact(at)hiddenbrains(dot)com