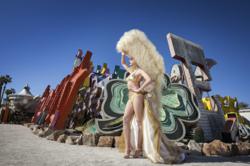 Las Vegas, Nevada (PRWEB) March 07, 2013
Prominent television production company,High Noon Entertainment has signed a deal with Battle of the Strands (BOTS), an extreme salon competition, for a TV series and special.
High Noon has been granted exclusive rights in developing a television series surrounding BOTS and its 2013 competition as well as a special focusing on the 2012 competition. The two companies will be partnering through a development period to produce an initial series cycle of the competition & the option to produce subsequent seasons under agreed terms for national and international distribution.
BATTLE OF THE STRANDS (BOTS)

Battle of The Strands is an extreme hair, makeup, and wardrobe salon competition. It was first produced for top salons in Las Vegas in 2011 where Shear Genius judge, Kim Vo, led his team to victory. It has since expanded to both a national and international audience with over 22 participating salons making it to the first cut in 2012, and this year welcoming contestants from Puerto Rico & Mexico. Twelve teams will qualify and proceed through extreme and challenging elimination rounds. Ultimately the final five will compete in Las Vegas on October 14, 2013 for the championship title. Celebrity and industry icons will be the final judges deciding the teams fate!
HIGH NOON ENTERTAINMENT

High Noon Entertainment is one of Americas leading suppliers of reality television. High Noon's portfolio of character driven programming and formats includes an array of genres, from the hit series Cake Boss to relationship-based Tough Love, and from competition elimination series like Next Great Baker, to studio-driven, shiny-floor game shows and action-packed series like Guinness World Records Gone Wild. With Offices in Denver, Los Angeles and New York, High Noon has a client base of over 23 leading US cable networks including AMC, Animal Planet, Discovery, HGTV, TLC, Travel, MTV Tr3s, truTV, Vh1, and Weather, and is scheduled to deliver more than 25 series, specials and pilots in 2013.