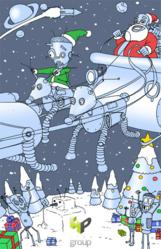 (PRWEB UK) 1 December 2012
Leading search engine marketing agency High Position have announced the launch of an online advent calendar which provides top digital marketing tips on each day in December during the run up the Christmas.
The Top Tips for 2013 Advent Calendar focuses on core areas of digital marketing, providing cutting edge insight into what is hot in 2013. Hosted on the High Position website and structured on a traditional advent calendar, there are 25 doors that open each day in December, each linking to a different blog post providing cutting edge insight in significant areas of digital marketing in 2013.
The posts span areas of digital marketing such as search engine optimisation, pay-per-click advertising, conversion rate optimisation, web analytics, and social media strategy. The series of 25 posts have been devised by the teams of experts at High Position, to build a comprehensive repository of insight into digital strategy for the coming year.
Tom Jepson Head of SEO at High Position said, Education is massive part of our culture. We strive to educate our clients within campaigns, and work with our community to educate on core areas of digital marketing through initiatives such as seminars and white papers. The advent calendar has been developed for this purpose, to provide essential insight into what lies ahead in 2013.