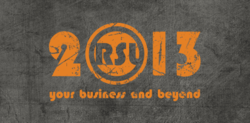 Phoenix, AZ (PRWEB) June 14, 2013
Students from several local high schools will have the opportunity to learn about entrepreneurship as a viable career option during the inaugural Ready Set Launch youth week, June 17-21, hosted by the Center for Entrepreneurial Innovation at GateWay Community College, with the help of international sponsorships and partners.
From conception to pitch, the students will form groups and take a hands-on approach to developing a business, including filming commercials, recording radio spots, and writing abbreviated business plans. They will subsequently present in front of family and friends as well as a panel of judges who will award prizes to the team with the best overall pitch.
Our Ready Set Launch! program will teach valuable business, teamwork and critical thinking skills, said CEI executive director Jeff Saville. But the best part of the week is when the students present all their incredible work on Friday in front of each other and their proud family members.
As part of the experience, the students will tour DPR Construction and hear from some incredible guest presenters from the entrepreneurial community, including Phoenix Business Journal 40 under 40 honorees Jenny Poon of CO+Hoots and Chris Petroff of Seed Spot. Also scheduled to speak is CEI client Clarizza Watson of SiO2 Nanotech LLC and her husband, Gabe Watson, former Arizona Cardinals defensive lineman who played in Super Bowl XLIII.
This week would not be possible without the support of our clients and the local entrepreneurs who are devoting their time to share their experiences with these students, Saville said. And we cannot overlook those who have pledged additional financial and lunch sponsorships as well.
Spotlight, an innovative project management software company, as well as the 157 Group, an organization dedicated to improving further education programs in England, each made financial contributions to the program. CEI client Phillip Felice of Smart Phocus also donated iPhone accessory kits as prizes for the winning team. Each cited the continuing education of young people, particularly in the business and entrepreneurial disciplines, as primary reasons for their support.
In addition, Postino, DPR Construction, Maizies Caf