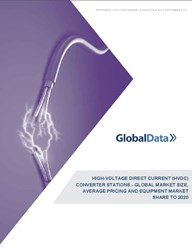 Rockville, MD (PRWEB) October 15, 2013
High-Voltage Direct Current (HVDC) Converter Stations – Global Market Size to 2020
The HVDC converter station market experienced considerable growth during 2006 to 2012. As of 2012, the share of the HVDC transmission network accounted for less than 1-2% of the total global transmission network. However, the increased need for bulk transfer of electricity over large distances with fewer transmission losses has led to considerable deployment of HVDC transmission lines and converter stations globally. These factors, along with the focus on creating interconnected grids, are expected to increase the share of HVDC transmission systems in the global transmission market over the forecast period 2013 to 2020.
According to the International Atomic Energy Agency (IAEA), global electricity demand is expected to double over the period 2000 to 2030, growing at an annual growth rate of 2.4% and reaching 31,524 Terawatt hours (TWh) by 2030. Developing countries such as China, Brazil and India are expected to grow at an annual rate of 4% during the same period and drive the global demand for electricity. To meet the rising electricity demand, these countries are making significant investment into power generation and transmission. Due to the huge transmission investment in China, Brazil and India, the HVDC converter station market is expected to grow rapidly during the forecast period.
China, Brazil and India are currently the key markets for HVDC substations, and electricity demand in these countries is expected to rise sharply in the future. The main driver for their HVDC converter station markets is that the natural resources for power generation (such as hydro) are located far off the load centers, where the electricity is required. During 2009 and 2012, the cumulative market revenue generated by the Chinese HVDC converter station market amounted to $ 9.2 billion. The market is expected to continue to increase at a high growth rate in the coming years until 2020, due to the planned execution of a number of HVDC projects.
The HVDC converter station market in North America and Europe is expected to be primarily benefited by the renewable energy targets of individual countries in these regions.
To order this report:
High-Voltage Direct Current (HVDC) Converter Stations – Global Market Size to 2020
Contact: Shauna

800.298.5699

Customerservice(at)marketresearch(dot)com
GlobalData
GlobalData is the premier source of actionable insight into the energy and healthcare industries. With the combined expertise of more than 1,000 researchers, market analysts and consultants, we provide high-quality, accurate and transparent industry insight that helps our clients to achieve growth and increase business value.
About MarketResearch.com
MarketResearch.com is the leading provider of global market intelligence products and services. With research reports from more than 720 top consulting and advisory firms, MarketResearch.com offers instant online access to the worlds most extensive database of expert insights on global industries, companies, products, and trends. Moreover, MarketResearch.coms Research Specialists have in-depth knowledge of the publishers and the various types of reports in their respective industries and are ready to provide research assistance. For more information, call Cindy Frei at 240.747.3014 or visit http://www.marketresearch.com
Follow us on Facebook http://www.facebook.com/marketresearchdotcom

Follow us on Twitter http://www.twitter.com/marketresearch_
High-Voltage Direct Current (HVDC) Converter Stations – Global Market Size to 2020 Table of Contents:
1 Table of Contents

2 Introduction

3 Global HVDC Converter Station Market Analysis

3.1 HVDC Converter Station Market, Global, Overview

3.2 HVDC Converter Station Market, Global, Drivers and Impact Analysis, 2013-2020

3.3 HVDC Converter Station Market, Global, Restraints and Impact Analysis, 2013-2020

3.4 HVDC Converter Station Market, Global, Revenue Analysis, 2006-2020

3.5 HVDC Converter Station Market, Global, Annual Capacity Addition, 2006-2020

3.6 HVDC Converter Station Market, Global, Price Analysis, 2012

3.7 HVDC Converter Station Market, Global, Market Share Analysis, 2006-2012

4 Global HVDC Converter Station Market, Key Country Analysis

5 Appendix