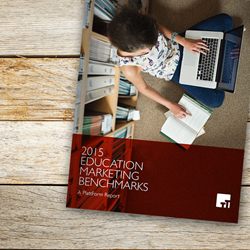 LENEXA, Kan. (PRWEB) March 03, 2015
PlattForm released a white paper entitled 2015 Education Marketing Benchmarks that reveals key information for marketers specializing in higher education. The report combines PlattForms proprietary client data with overall industry trends to establish baselines for measuring the performance of institutions marketing programs.
Our data shows us prospective students are using more media and taking longer to inquire with an institution. In order to understand why, we need to reframe our conversation in terms of the student journey. What sources do prospective students trust, when do they trust them and how do sources interact with one another? These are the questions marketers need to be answering, said Mike McHugh, executive vice president of operations for PlattForm.
Findings from the report include: