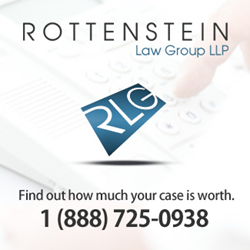 Rockville Centre, NY (PRWEB) June 26, 2014
The Rottenstein Law Group LLP, a national personal injury law firm with over 25 years of experience helping individuals obtain compensation for injuries caused by defective medical devices, announces the launch of its Hip Implant Injury Center website, http://www.hipimplantinjury.com, to assist individuals with determining whether or not they have cause to sue a hip replacement implant manufacturer.
The law firm has created this Web site in order to help prospective plaintiffs easily navigate through information about the many different types of metal-on-metal hip replacement devices made by different manufacturers that are allegedly responsible for serious injuries. Thousands of plaintiffs have filed lawsuits against DePuy Orthopaedics, Stryker, Smith & Nephew, Biomet, and Wright Medical Technology, seeking compensation for medical expenses and other damages caused by the premature failure of their hip implants, which require painful revision surgery to remove and replace the devices.
It is important that individuals injured by defective hip replacement implants are familiar with the details about the device that has failed them, said Rochelle Rottenstein, principal of the Rottenstein Law Group. We want to help make filing a lawsuit as easy as possible, and that process begins with knowing which hip implant caused the injury.
The Rottenstein Law Group LLP encourages anyone who believes they, or a loved one have been injured by a defective hip implant to visit the firms new Web site for valuable information about these dangerous devices. Users are invited to request a no-cost case evaluation by filling out the confidential form found on the sites home page.
About The Rottenstein Law Group LLP

The Rottenstein Law Group LLP is a New York-based firm that represents clients nationwide in mass tort actions. The firm was founded by Rochelle Rottenstein, who has more than two decades of experience as a lawyer, to represent clients hurt by defective medical devices and medications. (Attorney advertising. Prior results do not guarantee a similar outcome.)
For More Information, Please Contact:

The Rottenstein Law Group LLP

Rochelle Rottenstein, Esq.

100 Merrick Road, Suite 226W

Rockville Centre, NY 11570

(212) 933-9500 (office phone)

(212) 933-9980 (facsimile)

rochelle(at)rotlaw(dot)com

plus.google.com/106070664376281033016