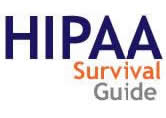 (PRWEB) May 12, 2015
3Lions Publishing, Inc. (3Lions), the owner/operator of the HIPAA Survival Guide, is pleased to announce its HIPAA Audit Preparation Training Suite. The Suite is available for purchase on the HIPAA Survival Guide Store as a Package, as individual products, or as part of our Subscription Plan. As always, subscribers receive all new products, and product updates, FREE as part of their subscription.
3Lions Suite provides a methodology for ensuring requirement-by-requirement coverage of the one hundred sixty nine (169) requirements that the Department of Health and Human Services (HHS) has identified in its HIPAA Audit Protocol. There is simply no need to guess what HHS might ask in an audit because our Suite walks you through audit preparation at the appropriate level of detail. It provides comprehensive coverage regarding what HHS will require of you when (not if) it launches a HIPAA audit of your organization. It also provides a methodology for addressing the "big picture" questions that may provoke the "deer in the headlights" look for the uninitiated.
Our Suite provides video based instruction for training HIPAA Privacy and Security officers, as well as the executive team. It provides the kind of training that those in the hot seat need in order to prepare effectively for the rigors of an audit. Carlos Leyva, CEO of 3Lions, says: 3Lions continues to innovate with the release of its HIPAA Audit Preparation Training Suite. This offering provides Products that help covered entities and business associates understand what is required of them at the granularity of an audit requirement . It provides coverage of the HIPAA Privacy Rule, Security Rule, and Breach Notification Rule, in addition to providing a HIPAA Audit Overview Training module. Our Suite is swipe and go priced to be affordable for healthcare stakeholders of all sizes, industry wide.
About 3Lions Publishing, Inc. (3Lions)

3Lions focuses on publishing online context sensitive content within well-defined subject matter domains, such as health care. 3Lions helps publishers leverage and monetize their content by providing a publishing platform that matches high quality content with an SEO centric set of audience development tools. 3Lions is located in the greater Tampa, FL area. To learn more about 3Lions, visit its flagship site at http://www.hipaasurvivalguide.com.