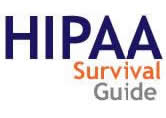 Tampa, Florida (PRWEB) January 15, 2013
3Lions Publishing, Inc. (3LP), the owner/operator of the HIPAA Survival Guide, is pleased to announce Release 1.0 of its HIPAA Cloud, Social Media, and Mobile Checklist under HITECH. The Checklist is available for purchase in the HIPAA Survival Guide Store. Cloud Computing, Social Media, and Mobile Devices (CSMM) are only a small subset of an organizations compliance initiative, but represent significant potential liability. Addressing CSMM sooner rather than later can dramatically improve your compliance ROI.
3LPs CSMM Checklist provides policies, processes, and tracking mechanisms to help covered entities (health care provides, health plans, etc.) and their business associates deliver visible, demonstrable evidence of HIPAA compliance. The Checklists are H2 Compliance Scorecard ready, which provides a powerful mechanism for reviewing an organizations Checklist progress and facilitates compliance reporting. In addition to implementation guidance, 3LPs CSMM Checklist provides model out-of-the-box and ready to use Cloud Computing, Social Media, and Mobile Device policies that are readily customizable.
Carlos Leyva, CEO of 3LP, says: 3LP continues to deliver innovative HIPAA compliance products with Release 1.0 of our CSMM Checklist. Our CSMM Checklist provides a HITECH ready, out-of-the-box solution for complex HIPAA Cloud Computing, Social Media, and Mobile Device compliance challenges. Our Checklist is swipe and go priced to be economically affordable for healthcare stakeholders of all sizes, industry wide.
About 3Lions Publishing, Inc. (3LP)
3LP focuses on publishing online context sensitive content within well-defined subject matter domains, such as healthcare. 3LP helps publishers leverage and monetize their content by providing a publishing platform that matches high quality content with an SEO centric set of audience development tools. 3LP is located in the greater Tampa, FL area. To learn more about 3LP, visit its flagship site at http://www.hipaasurvivalguide.com.