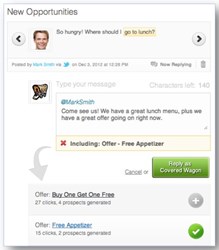 Dallas, TX (PRWEB) September 04, 2013
Early adopters of HipLogiqs SocialCompass White Label software believe they carry a sophisticated tool that gives them the ability to engage and influence their clients' customers on Twitter. They claim it goes beyond existing tools like Hubspot and Salesforce Marketing Cloud to wrap many apps into one to find, engage and convert customers, track results, and bolster brand loyalty.
People are always looking for the next big thing, and SocialCompass is it, says Adam Ulevitch, president of AnIdea. Ten years ago we were looking at customer relationship management (CRM) solutions. Then it was social media. SocialCompass is the evolution of social media, turning a retention tool into an acquisition tool.
The power behind that shift is SocialCompass patented Engagement EngineTM that searches Twitter and looks for relevant tweets based on a clients keywords, location and target audience. When SocialCompass finds a relevant tweet, its flagged on a dashboard so the agency can respond in real time with an offer 20 percent off, free product or BOGO, for example to turn a potential client into a customer. This is called a location-based conversation (LBC). The conversion rate averages 25 percent, but some clients have found rates as high as 85 percent. Beyond the single sale, the customer who received the original offer receives another offer a day or two later for them to share with their friends. Then those friends share the offer with their friends and the cycle continues.
Its an exponential return on the dollar, says Ulevitch, who is recommending SocialCompass campaigns for its B2C and B2B clients including a national pizza delivery company.
Imagine the power of knowing exactly what a potential customer is looking for the moment he or she is looking for it, says Adam Root, CTO and co-founder of HipLogiq.
SocialCompass allows me to engage consumers at the height of the consideration cycle when they are about to make a purchase decision, Ulevitch says. I can measure the results in real time, too, and get information to my clients immediately. This is core technology for advertisers and marketers.
Case study: Pizza delivery franchise hits 52 percent conversion rate

Agencies live or die by the numbers. Clients want to see results for their investment. SocialCompass reporting tool which can be customized to an agencys brand is 100 percent real-time and transparent so marketers and their clients can make real-time decisions.
At any given time, Ulevitch knows exactly what kind of success rates his clients experience. One is a local pizza delivery franchise that launched its SocialCompass campaign in December 2012:
52 percent conversion rate: In one local market, the company has had nearly 3,000 LBCs with more than 1,500 prospects downloading offers. This allows the pizza company to reach potential customers they were missing before through traditional advertising and marketing.
Expanded reach: The prospects SocialCompass delivered expanded the companys reach to more than 50,000 users on Twitter through retweets and shared offers.
Key word examples: love pizza, need something sweet, ordering pizza, want breadsticks, want some pizza, want wings, craving breadsticks
eContent integration: In addition to LBCs, the pizza company also produces blogs and eBooks to attract new customers with custom content related to the business products and services. Within that content there are links to current offers and promotions. Since the pizza campaign launched, the company has seen a 35 percent conversion rate from visitors downloading a coupon from the blog.
Although admittedly its not an apples-to-apples comparison, there are some parallels to search engine marketing (SEM), says Ulevitch. When I spend money on paid ads, the search engine looks for key words and presents a brief ad message with a link to a website, he says.
But the comparison ends there. When SocialCompass finds the tweet with your key words, you go beyond a passive invitation to a website. You get to create a conversation and engage in a dialog with the potential customer. We talk to them and present an offerthats active, intent-based marketing, and its where advertisers and marketers need to evolve.
About HipLogiq

HipLogiq began in October 2012 as Social Compass, an enterprise solution for social media marketing, now with a White Label solution for companies and agencies that want to brand the tool. Co-founders Adam Root, Lindsey Madison and Bernard Perrine designed the patented technology to help companies target and engage customers over social media in a meaningful, results-driven way. SocialCentiv launched in March 2013 works similarly for small to medium businesses, but with a web-based, do-it-yourself solution. During the design of SocialCentiv, leadership decided it was time to evolve the company into an idea factory that produces the most innovative, successful applications in their market space. As a result, HipLogiq also launched in March 2013 and received $ 5M in series A funding shortly after. For more information, go to http://www.hiplogiq.com or visit them on Facebook or Twitter.
# # #
For more information, contact Karen Carrera, karen(at)trizcom(dot)com, 972-207-1935 or on Twitter, @kjcarrera.