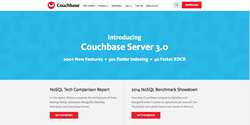 Washington, DC (PRWEB) November 04, 2014
CMS vendor Hippo, and Digital Engagement Company AuthX Consulting, partnered to provide NoSQL software provider, Couchbase, with an industry-leading Digital Marketing Platform. Couchbase has experienced rapid growth over the past few years to become the NoSQL provider for many well-respected companies, such as AT&T, Disney, e-Bay, Neiman Marcus, and Verizon and as a part of their growth, recognized the need to enhance their digital marketing capacity. After accepting proposals from several vendors around the globe, Couchbase selected AuthX to implement a new website on the Hippo CMS platform.
Leveraging the many features of Hippo CMS, the platform delivered boasts multi-site management, targeting, and real-time personalization capabilities that will enable Couchbase to deliver high-quality digital experiences to its customers, across multiple digital properties. The multi-phase engagement completed its successful first phase with the release of a redesigned Couchbase.com site that launched with both the Couchbase Server 3.0 product release, as well as the annual Couchbase Connect user conference, held in San Francisco.
The Hippo CMS is a user-friendly tool that AuthX assisted in driving exceptional value for both our Marketing and IT teams with a solid implementation in an extremely aggressive timeline, says Doug Laird, Couchbase Chief Marketing Officer. The platform immediately proved its worth as we drove to deliver a new site on Hippo in time for our 3.0 release and Couchbase Connect Conference. Were very excited about leveraging Hippos capabilities as we work to provide even more engaging digital experiences to our customers and community.
The implementation is the result of a newfound partnership between the organizations, as Couchbase software is used to power the Hippo CMS Relevancy and Targeting capabilities that are embedded into the platform. Our work with Couchbase verified the results one can see when you combine solid technology with a sound technical framework, says Jerry Hill, AuthX CTO. The platform will allow Couchbase to measure customer interaction with their brand, and react in an extremely agile manner. We look forward to continuing to use innovative methods to give them a competitive edge in the marketplace.
About Couchbase

Couchbase provides the worlds most complete, most scalable and best performing NoSQL database. Couchbase Server is designed from a simple yet bold vision: build the first and best, general-purpose NoSQL database. That goal has resulted in an industry leading solution that includes a shared nothing architecture, a single node-type, a built-in caching layer, true auto-sharding and the worlds first NoSQL mobile offering: Couchbase Mobile, a complete NoSQL mobile solution comprised of Couchbase Server, Couchbase Sync Gateway and Couchbase Lite. Couchbase Server and all Couchbase Mobile products are open source projects. Couchbase counts many of the worlds biggest brands as its customers, including Amadeus, Ballys, Beats Music, Cisco, Comcast, Concur, Disney, eBay / PayPal, Neiman Marcus, Orbitz, Rakuten / Viber, Sky, Tencent and Verizon, as well as hundreds of other household names worldwide. Couchbase is headquartered in Silicon Valley, and is backed by leading VCs including Accel Partners, Adams Street Partners, Ignition Partners, Mayfield Fund and North Bridge Venture Partners. http://www.couchbase.com
About AuthX Consulting

AuthX is a Digital Engagement Company offering technical and marketing services with proven success supporting Fortune 1000 companies. The company is focused on taking modern business and technical strategies such as Customer Experience Management (CXM), test-driven optimization, personalization as well as content management and deploying them through one global system. A strategy we call Global Brand. Local Marketing. By partnering with industry leading CXM technologies, AuthX is able to offer clients a tailored strategy to communicate intimately across channels through enablement of the platforms. AuthXs corporate philosophy promotes bringing authenticity to each engagement including our clients, our partners, our employees and our industry. To assist clients in facing the challenges of an ever-changing digital marketplace, AuthX provides Enterprise Architecture and Strategy, Implementation Services, Optimization Services and Cloud-Based Managed Services. http://www.authxconsulting.com | @authxconsulting
About Hippo

Hippo powers some of the world's most intricate online environments for leading brands, creating relevant, engaging and personal experiences across all channels. Content-centric and based on open standards, Hippo is the only digital experience platform offering both the marketing agility and technological flexibility to drive continuous innovation. Together with its global network of Certified Partners, Hippo serves a rapidly growing number of enterprise clients including Conde Nast, Bell Aliant, Autodesk, Couchbase, the Dutch Foreign Office, Veikkaus, the University of Maryland and Weleda.
For more information visit http://www.onehippo.com
Company and product names are trademarks of their respective owners.