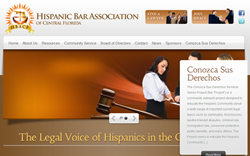 Orlando, FL (PRWEB) August 05, 2013
The team of attorneys at the Hispanic Bar Association of Central Florida have recently launched the newest version of their website with the help of web design and SEO company authenticWEB.
Led by President Kimberly Lopez and President Elect Tiffany Faddis, the Hispanic Bar Association of Central Florida is a group of Hispanic attorneys who work to support and represent Central Floridas large Hispanic community. The organization aims to advocate for the Hispanic communitys rights, help members of the community better understand their legal rights, and promote greater Hispanic representation in leadership positions. This includes supporting Hispanics in their efforts to become not only judges and lawyers, but also students, business owners, and civic leaders.
The HBACF hosts its meetings at the Orange County Regional History Center, but the association also serves people in need of legal help in Marion County, Sumter County, Lake County, Seminole County, Osceola County, Polk County, Hardee County, and Highlands County.
authenticWEB is a web design company that combines Search Engine Optimization (SEO), social media, and online video for service-based professionals like the HBACF. They are business-oriented internet experts who focus on trying to attract the sort of clients each specific client would most like to and best be able to serve.
In the HBACFs case, authenticWEB met with the executive board and general members in order to figure out the groups mission. From there, they helped redesign the website to be both professional-looking and easily accessible to members. According to association president Kimberly Lopez, the newly redesigned website has caused the HBACFs traffic to increase exponentially, allowing them to provide increased benefits to their members. In her words, "Authentic WEB thoroughly engaged with executive board and general members to fully understand the groups purpose and mission to ensure the delivery of an effective product."