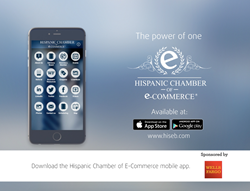 San Diego, CA (PRWEB) April 02, 2015
When it comes to small business owners reaching Hispanic audiences, mobile marketing is a non-negotiable; in fact, Hispanic consumerswho represent 15 percent of all U.S. adultsare more likely than non-Hispanics to own a smartphone and to use it as their primary connection to the Web. Meanwhile, more than 60 percent of Hispanic small business owners own smartphones, and many are increasingly keen to embrace mobile marketing. In a significant new partnership with the Hispanic Chamber of E-Commerce (HISCEC), Wells Fargo has underwritten its own support of the small business community, and of mobile-conscious Hispanic business owners, in particular.
Wells Fargo has a longstanding commitment to supporting small business owners, and has placed an emphasis on small business technologies. Last year saw the launch of Wells Fargo Works for Small Business, an initiative designed to grow and develop technological resources for small business owners. Now, Wells Fargo has partnered with the Hispanic Chamber of E-Commerce to develop a new mobile app, which will provide unique ways for small business owners to connect with local communities, reach customers, and easily access other business resources.
"The Hispanic Chamber of E-Commerce is honored to have Wells Fargo as a strategic partner for our mobile initiative, comments Tayde Aburto, founder of the Hispanic Chamber of E-Commerce. Wells Fargo and the HISCEC know that we can only be successful if the communities in which we do business also succeed. That's why is important to stay innovative and responsive to the need of our members."
The innovative new mobile app will provide business development opportunities, education, and connectivity, all through an intuitive and accessible platform. Wells Fargo is enthusiastic about the possibilities represented, and is committed to helping small businesses succeed financially, grow, and add jobsall of which helps the community to prosper.
Working with small business owners is one of the most important things we do at Wells Fargo, says Susan Luehrs, Wells Fargo Senior Vice President and Regional Marketing Manager for the Southern California Region. Small business owners are increasingly adopting mobile banking to stay on top of their business finances from virtually anywhere and anytime. We are committed to supporting small businesses succeed financially and utilizing technology to support their business needs. The innovative app developed by HISCEC will provide additional resources to support small business communities and their customers.
Wells Fargo is truly committed to empower the Hispanic family business sector with the tools that can help them to become more competitive in the marketplace, Aburto concludes. Our business values drive our agenda and our corporate sponsors and strategic partners help to make our programs and initiatives happen.
More information about the Hispanic Chamber of E-Commerce can be found at http://www.hiseb.com.
About HISCEC
The Hispanic Chamber of E-Commerce is a benefit corporation using the power of business for social good. The organization combines the values of a non-profit with the flexibility and innovation of a tech startup. HISCEC's mission is to promote the use of the Internet as a business tool to help family owned businesses to become more competitive. More information is available at http://www.hiseb.com.
About Wells Fargo
Wells Fargo & Company (NYSE: WFC) is a nationwide, diversified, community-based financial services company with $ 1.7 trillion in assets. Founded in 1852 and headquartered in San Francisco, Wells Fargo provides banking, insurance, investments, mortgage, and consumer and commercial finance through more than 8,700 locations, 12,500 ATMs, and the internet (wellsfargo.com), and has offices in 36 countries to support customers who conduct business in the global economy. With approximately 265,000 team members, Wells Fargo serves one in three households in the United States. Wells Fargo & Company was ranked No. 29 on Fortunes 2014 rankings of Americas largest corporations. Wells Fargos vision is to satisfy all our customers financial needs and help them succeed financially. Wells Fargo perspectives are also available at Wells Fargo Blogs and Wells Fargo Stories.