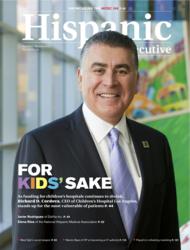 Chicago, IL (PRWEB) January 30, 2013
Hispanic Executive (HE) magazine is proud to announce a dynamic new media partnership with the United States Hispanic Chamber of Commerce (USHCC) aimed at the advancement of today's Hispanic business owners, corporate leaders, and entrepreneurs.
This strategic media partnership will maximize the impact that Hispanic Executive and the United States Hispanic Chamber of Commerce bring as we both work towards ensuring Hispanic innovators are at the forefront of an ever-changing business landscape within the United States and abroad, says Pedro A. Guerrero, president of Guerrero Howe Custom Media, which publishes Hispanic Executive.
Hispanic Executive will also serve as a Platinum Sponsor for the USHCCs 34th Annual National Convention this September in Chicago, the magazine's hometown, and has become an official member magazine of the USHCC.
The USHCC is proud to partner with Hispanic Executive and the Guerrero Howe team during what promises to be a banner year for both our organization and theirs. The entrepreneurs behind Hispanic Executive understand the importance of highlighting the successes and contributions made by our Hispanic business community to the well-being of the American economy. As the largest Hispanic business organization in the nation, we are delighted by what this partnership means for our constituents, says Javier Palomarez, president and CEO of the USHCC.
About Hispanic Executive:

Since 2007, Hispanic Executive has been dedicated to uniting powerful leaders, and advocating for Latino leadership through its effective, high-end design and in-depth coverage. Learn more at HispanicExecutive.com, @HispanicExecMag, and facebook.com/hispanicexecutive.
About the United States Hispanic Chamber of Commerce:

Founded in 1979, the USHCC actively promotes the economic growth and development of Hispanic entrepreneurs and represents the interests of over 3 million Hispanic-owned businesses across the United States that contribute in excess of $ 465 billion to the American economy each year. It also serves as the umbrella organization for more than 200 local Hispanic chambers and business associations in the United States and Puerto Rico. For more information, visit http://www.ushcc.com.
If you'd like more information, or to schedule an interview with Pedro A. Guerrero, please contact Vianni Busquets at 312-564-2185 or via e-mail at vianni (at) hispanicexecutive (dot) com.
To reach the USHCC, please contact Ms. Cherie Shepherd via e-mail at cshepherd (at) ushcc (dot) com.