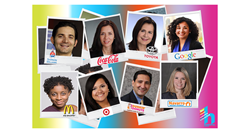 Miami, FL (PRWEB) February 25, 2014
Organizers of the fifth annual event today unveiled a blockbuster Hispanic Marketing Showcase that will feature 20 live-streamed brand sit-downs as well as dozens of cultural trends sessions, research and case studies throughout the four days of the event, April 1-4 in downtown Miamis InterContinental Hotel. (Book your room now at: http://www.hispanicizeevent.com/attend-2).
Every industry of Hispanic marketing advertising, PR, social, digital is fully represented as part of a brands-speak-first agenda that is simply the most relevant, largest and comprehensive one in the nation this year. (See the Hispanicize 2014 Preview Video http://www.youtube.com/watch?v=4CjZ529JPf8).
In terms of Hispanic marketing industry event, anybody can compare to see that theres no better event for marketers in terms of substance, practical insights, actionable advice, research and Hispanic brands than Hispanicize 2014, said Manny Ruiz, founder of Hispanicize. From top to bottom, Hispanicize is the place where brands go to learn about trends and meet the trend setters, all in a fun, festive atmosphere that has no peer.
Highlights of this years Hispanic Marketing Showcase include: 20 Hispanic Brand Sit-downs that will be live streamed via Google, the release of three major research studies, the unveiling of new Hispanic market programs by Toyota and Coca-Cola and numerous cultural trends sessions featuring top brands. In addition to this content, Hispanicize 2014 will co-host two Hispanic market industry receptions and is partnering with El Sol Newspaper to provide free event passes for up to 25 Hispanic media buyers.
Leading Brands, Agencies and Media Companies
Brands, agencies and media companies slated to present at this years event include Coca-Cola, Target, Toyota, McDonalds, Google, YouTube, Starbucks, Dunkin Donut, State Farm, Sherwin-Williams, Transitions, Navarro, Florida Blue, Burson-Marsteller, Pinta, Republica, Devries Global, Edelman, The Zocalo Group, BodenPR, Sensis Agency, Hunter Public Relations, The Axis Agency, Vme, Univision, Telemundo, VPE PR and more that will be announced shortly.
Global Live Stream of Hispanic Brand Sit-downs
Paying tribute to its brands-focused Hispanic marketing and digital roots, the fifth anniversary of Hispanicize 2014 is introducing an innovative series of 20 Google live streamed Hispanic Brand Sit-downs with top Hispanic brand executives. The studio-like setting will feature one-on-one, 20-minute long interviews with senior brand executives before of a small audience of 20 attendees or less.
Top Trends Explored, New Campaigns Unveiled
The event will feature a number of key Hispanic market sessions that are white hot in the industry including a no-holds-barred look at the Total Market Debate, a preview of Coca-Colas World Cup Hispanic market strategy, the unveiling of a new Hispanic market approach by Toyota and much more. Hispanicize 2014 will receive extensive marketing media coverage from the top three advertising and marketing trade media outlets in the U.S.: PRODU, Hispanic Market Weekly and The Hispanic PR Blog.
Three Research Projects Revealed
At least three major pieces of research will be unveiled at Hispanicize 2014. Sensis and ThinkNow Research will host a special session discussing the results of an in-depth study about Latino millennials titled The Hispanic Millennial Project. Florida State University and the Latina Mom Bloggers network will unveil the findings of a first-of-its-kind national survey of Latino bloggers. California State University Fullerton, the National Association of Hispanic Journalists, Hispanicize Wire and Florida International University will discuss the results of an unprecedented study they are conducting about Hispanic journalists.
Social Media for Social Good
For the third year in a row Google/YouTube will deliver their annual state of Hispanic market industry report session, a popular Hispanicize event tradition. Florida Blue will be spreading social media for social good to more than 100 non profits by offering a free, half day training session that will equip non profits with how to leverage social media to better serve Latino and multicultural communities.
Hispanic Media Buyers Attend Free
Thanks to a new program fully sponsored by El Sol Newspaper up to 20 qualified Hispanic media buyers will be able to attend Hispanicize 2014 free. Media buyers may contact El Sol directly at lgomez(at)elsoln1(dot)com. El Sol Newspaper is also sponsoring a major session titled The Future of Hispanic Print.
MARKETING AND SOCIAL MEDIA SESSIONS
In addition to the 20 Brand Sit-down sessions, the schedule of which will be posted separately, below is a day-by-day breakdown of marketing and social media related events and sessions at this years event.
(To view the constantly updated schedule, download the Hispanicize 2014 event app on iTunes, Android, BlackBerry)
MONDAY, MARCH 31 (Pre-event Day)
— State of Hispanic Social Media Roundtable
— Half-Day Social Media for Social Good Training for Non-Profit Organizations
— SPECIAL EVENING EVENT: Pre-Event Marketers Reception Celebrating Launch of Miami Chapter of the Hispanic Public Relations Association
TUESDAY, APRIL 1
— Toyota for Latinos: A New Marketing Approach is Unveiled
— 2014 Google/YouTube Hispanic Market Update
— The State of Hispanic Journalists Survey Results
— Hispanic Social TV: Where Are We and What's Next
— Creating Apps for the U.S. Hispanic Market (50 min)
— The Hispanic Millennial Project
— Empower Your Employees and they will Empower Your Brand: A Special Session with Social Media Greats Ted Rubin and Ramon De Leon
WEDNESDAY, APRIL 2
— The Rules Of Engagement 2014: A Major Update on How Brands and Agencies are Effectively Engaging and Collaborating with Latino Bloggers
— Hispanic Market Trends 2014: Major Brands Take an In-Depth Look at the Cultural and Marketing Shifts
— The Power of F