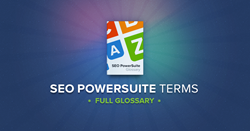 (PRWEB) February 03, 2015
Link-Assistant.Com, a decade-old provider of SEO software tools, has released a landmark dictionary that includes each and every SEO term present in the company's SEO PowerSuite toolkit.
The glossary consists of four parts, each pertaining to a specific app within the SEO PowerSuite toolset: Rank Tracker, WebSite Auditor, SEO SpyGlass and LinkAssistant.
"Taking into consideration the huge number of SEO factors available in SEO PowerSuite, no wonder it's a daunting task to remember the meanings of them all," says Erin Madison, User Experience Manager at Link-Assistant.Com.
"Although many SEO PowerSuite terms are common to the SEO industry (such as Google PageRank or Cost-per-Click), others are specific to the SEO toolset: for instance, Keyword Difficulty, Visibility, Reach, and other metrics."
*The Glossary of SEO PowerSuite Terms: Highlights*
Some important metrics explained in the new glossary concern SEO PowerSuite's in-house terms that are not to be found in other SEO tools:
*Keyword Difficulty is a metrics that indicates how difficult it would be for a site to achieve top rankings in a keyword niche.
*Expected visits reflects the number of visitors as website could expect if it occupied the very top spot for a keyword on Google.


Page visits (calculated) is Link-Assistant.Com's workaround for the (Not provided) problem. After Google search went predominantly secure (SSL), a large portion of visits became impossible to track back to particular keywords. SEO PowerSuite solves this issue by using a special formula to calculate the number of visits that were most likely driven by a certain search term.
*Reach is the ratio of monthly visits (from Google Analytics) to the number of monthly searches performed by real people on Google. For example, if 1000 people searched for a keyword and 1000 people clicked through to one's website, their Reach would be 100%.
*Link value is an estimate of relative SEO value a backlink has. This SEO metric is calculated according to SEO PowerSuite's own formula, taking into account the link page's Google PageRank (or Page Authority) and the number of outgoing links from the said page.
*Penalty risk is a metric that indicates how likely a backlink is to trigger a Google penalty (either manual or automatic). It is estimated according to SEO PowerSuite's own formula and is based on the age of the linking domain, its incoming and outgoing links, its Google PageRank (or Page Authority), and other variables.
The full list of SEO PowerSuite terms and SEO factors is available at http://www.link-assistant.com/glossary.html.
*About Link-Assistant.Com*
Link-Assistant.Com is an SEO software developer and the company behind SEO PowerSuite, a comprehensive set of tools that cover the entire SEO cycle. In February 2015, the company is planning to release the drag-and-drop tool that will redefine the SEO report and will allow SEO PowerSuite users to edit and alter client reports on the fly.