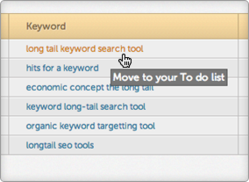 Fresno, CA (PRWEB) November 15, 2012
HitTail, a web-based tool that mines underperforming keywords from a website's existing traffic, has launched a new feature that will boost user productivity: automatic synchronization with Basecamp, the flagship project management software from 37signals. This integration allows customers to link their HitTail account with their Basecamp account and keep their HitTail to-do lists in sync with Basecamp without manual entry.
HitTail is a keyword suggestion tool that helps websites rank for long tail keywords without the need for a large number of links. HitTail picks out the most promising phrases for a website so the owner can add focused content on the topic and attract new visitors from search engines.
"Integrating with Basecamp will save our customers time and enable them to use our long tail SEO process within their current workflows. It should eliminate frustration and allow them to generate more long tail content as a result," said HitTail's owner, Rob Walling.
HitTail's ability to analyze mountains of information in real-time and present users with actionable data has made it an essential tool for thousands of bloggers, search engine optimizers and marketers since 2006. HitTail has received numerous press mentions in outlets such as BusinessWeek, the Wall Street Journal, PC World, CNet, TechCrunch, and others.

HitTail starts at $ 9.95 per month for up to 4000 unique visits, unlimited domains, SSL-support and real-time reporting.
About HitTail
HitTail, founded in 2006, is a keyword suggestion tool that reveals in real-time the least utilized, most promising keywords hidden in the long tail of your natural search results. We present these terms as suggestions that when acted on can boost the natural search results of your site. It's simple, actionable, and results are almost immediate. For more information visit us at http://www.hittail.com.