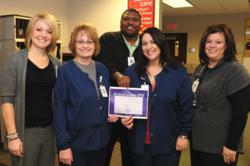 Girard, Ohio (PRWEB) November 20, 2012
HM Home Care, a division of Humility of Mary Health Partners HM Home Health Services, has been named to the 2012 HomeCare Elite list for the seventh consecutive year.
HomeCare Elite is an annual compilation of the most successful home care providers in the United States. It identifies home health agencies that rank among the top 25% nationwide based on quality outcomes, patient experience, process measure implementation, quality improvement and financial performance. Data used for analysis are compiled from publicly available information.
HM Home Care ranks among the top 500 agencies nationwide and is one of only a small percentage of home health agencies to appear on the HomeCare Elite list every year since it was established in 2006.
Among the things that distinguish HM Home Care from other home health agencies and identify it as a leading care provider is how infrequently its patients need to be admitted to the hospital, reports Michael Robinson, director, HM Home Health Services.
Robinson credits HM Home Cares dedicated staff and team-based, patient-centered care for keeping patients healthy enough to remain at home. Those low hospital admission rates and HM Home Cares continuous improvement across all of the benchmarks account for the organizations consistent inclusion on the HomeCare Elite list, he says.
Its so exciting to be part of an organization and clinical team that always puts the patient first, adds Lisa Bryan, clinical manager, HM Home Health Services. It shows in our patient satisfaction score, quality scores and in the comments we receive from our patients and their families. It is very rewarding to be recognized for all of our efforts by HomeCare Elite.
The 2012 HomeCare Elite winners demonstrate a commitment to providing patient-centered care and serving as leaders in the home health community. Their success offers data-driven proof of being well managed and high quality care providers to hospitals, managed care organizations, accountable care organizations and other potential referral partners across the healthcare continuum, observes Susan L. Henricks, president and chief operating officer, National Research Corp., the parent company of OCS HomeCare. Again, this year, we updated our methodology to reflect the rapidly evolving quality-focused health care landscape and national value-based purchasing trends. We congratulate Humility of Mary Health Partners HM Home Care on being one of the top 500 home care agencies in the country.
HomeCare Elite recognition continues to gain importance given the increased regulatory mandates and the threat of shrinking reimbursement revenue. Home health agencies that have earned recognition among the HomeCare Elite demonstrated that they not only can adapt to an evolving marketplace but continue to excel in clinical, patient experience, quality improvement and financial outcomes, says Marci Heydt, product manager for the post-acute care business group of DecisionHealth.
OCS HomeCare, a leading provider of cross-continuum healthcare metrics and analytics, and DecisionHealth, publisher of Home Health Line, sponsor the HomeCare Elite compilation. The entire list of 2012 HomeCare Elite agencies can be viewed at http://www.nationalresearch.com.
About Humility of Mary Health Partners:

Humility of Mary Health Partners is an integrated health system located in the Youngstown/Warren area. It is a region of Catholic Health Partners (CHP) in Cincinnati, the largest health system in Ohio and one of the largest Catholic health systems in the United States. HMHP provides a full spectrum of health care services, including inpatient, outpatient, emergency, urgent care, home care and long-term care. Members are St. Elizabeth Health Center, St. Joseph Health Center, St. Elizabeth Boardman Health Center, HM Home Health Services, The Assumption Village, Humility House, Hospice of the Valley and Laurel Lake. Learn more about HMHP online at http://www.HMpartners.org. ###

.