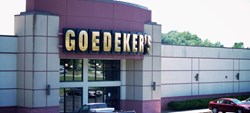 Ballwin, MO (PRWEB) October 29, 2013
In the wake of disparaging comments about amateur bloggers by a top designer, online retailer Goedeker's announced they will promote lifestyle bloggers by conducting interviews on their own publication, Goedeker's Home Life blog.
"Bloggers, especially those that write about design and lifestyle topics are important to Goedeker's," said Matt Davids, Director of SEO and Reputation Management for Goedeker's. "They are absolutely critical in identifying trends, educating others, and providing feedback to the industry. We are proud to profile and feature some of these great contributors on our own site."
Goedeker's blog features news, announcements, and information about the appliance and furniture industry already, including entrepreneurs and innovators bringing to products to market via Kickstarter. However, in a blog post on Tuesday, the retailer announced they would be conducting interviews and profiling bloggers that wrote about interior design, crafting, and other domestic topics in the future as well.
Goedeker's Home Life blog can be found at http://www.Goedekers.com/blog.
"Who are these bloggers?" Martha Stewart asked in a controversial interview earlier this month with Bloomberg Television. The designer and brand creator was asked whether there was poor taste in the social media, and her comments sparked controversy among bloggers who felt slighted by the design diva's remarks.
In wrapping up positive aspects and advice based on Stewart's remarks from around the Internet, Goedeker's saw an opportunity to help these amateur writers get recognition for their passion and their useful and informative contributions.
Since 1951, Goedekers has set the standard for excellence in the St. Louis retail appliance market. Since expanding online with Goedekers.com, Goedekers has brought the same tradition of excellence to the nation. Goedekers has continued to grow offering furniture, mattresses, and plumbing supplies, as well as major appliances from national brands.
For more information, or to schedule an interview with a representative of Goedeker's, contact Matt Davids at 888-768-1710 ext 343, or email social(at)goedekers(dot)com.